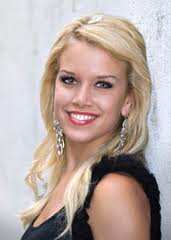 The 17-year-old Gerig resident and Scottsbluff High School student played the piano during the competition, and her platform issue was tackling eating disorders. She hopes to attend law school, become a judge and eventually a politician, according to the Miss America website.
Scanlan succeeds last year's honoree, Caressa Cameron from Virginia. The 22-year-old Virginia Commonwealth University student is the National Goodwill Ambassador for the Children's Miracle Network.
The other four finalists were Emoly West of Oklahoma, Jacquie Brown of Washington, Jalee Fuselier of Hawaii and Alyse Eady of Arkansas.
This year's contest, held at the Theater for the Performing Arts at Planet Hollywood in Las Vegas, was hosted by Chris Harrison, of "The Bachelor" fame, as well as model and "Dancing With the Stars" alum Brooke Burke.
The 2011 edition was celebrated as the 90th anniversary of the Miss America pageant.
Margaret Gorman became known as the first Miss America after winning a pair of contests in 1921 — one consisting of women deemed most popular based on photos shown in various East Coast newspapers and the other for the so-called Golden Mermaid trophy.
Today, the competition is open to women between ages 17 and 24, with judges' rating contestants on talent, appearance and demeanor based on performances, interviews and evening wear and swimsuit competitions.
The pageant, which is distinct from the Miss USA crown, aims "to provide personal and professional opportunities for young women to promote their voices in culture, politics and the community," according to the Miss America website.