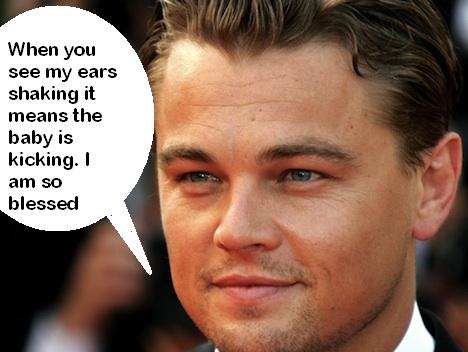 Leonardo DiCaprio has been granted a restraining order against a woman who believes she is his wife and is carrying his child — called Jesus.
The "Titanic" and "Inception" star said in documents filed with Los Angeles Superior Court this week that he was frightened of the "delusional" woman and felt his personal safety was in jeopardy.  He also asserted that "he" was the one carrying the baby Jesus and that the baby was developing normally in the top of his cranium.
His lawyer submitted a number of hand-written letters from the woman, named as Livia Bistriceanu, to DiCaprio.
"I know your head is gigantic," read the letter written in the childish scrawl commonly found amongst people who have restraining orders against them. 
"But a skull can only get so big and yours, even though it is gigantic, is still not going to be able to carry the baby to full term. "
DiCaprio's obstetrician scoffed at this negativity.
"Mr. DiCaprio's head is more than capable of carrying a baby to term," said Dr. Alphone Nobile of Cedars Sinai in Los Angeles.  "Just look at my client's head in pictures and movie posters.  It puts any uterus on earth to shame.  I wouldn't be surprised if he could carry quintuplets in there.  My client, ladies and gentleman, has a huge frigging head."
Other doctors question how DiCaprio will delivery the baby.
"While there is little doubt that Mr. DiCaprio's head contains a developing fetus, we question how he will deliver the child," said a team of doctors and midwives who prefer to remain anonymous. 
 "He has gone through the trouble of getting a restraining order against this woman, but why not let her carry the baby if she wants to carry it so badly?  It will be a lot easier for her to deliver a baby Jesus.  We agree that DiCaprio's head is large enough to carry a nativity scene and a couple of sand dunes, let alone the babay Jesus,  but it's the delivery we're concerned about."
DiCaprio, who had previously avoided the subject because of the ongoing criminal investigation, agreed to answer these hard questions.  George Clooney clutched Leo's hand as the Titanic star spilled his true feelings.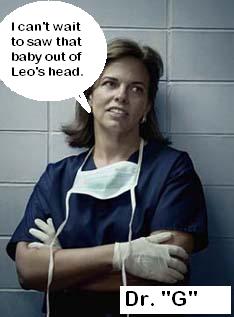 "I have hired Dr. G Medical Examiner to remove the baby Jesus as soon as I start getting contractions."  said DiCaprio as he sat poolside withClooney and a statue of Randolph Scott. 
"Dr G will saw off the top of my head like she has done to thousands of dead people, and remove the baby.  My obstetrician will be there so that Dr. G Medical Examiner does not get carried away and tear out my internal organs."
Dr Janet Garavaglia, or "Dr.G" as she is known to Discovery Channel viewers is ready willing and able.
"I am used to cutting off the tops of heads.  It's my favorite thing in the world to do," said the blood-soaked medical examiner. "I have always done it on dead people but now here is my chance to cut off a skull and bring new life into the world.  Leo's head is huge and thick but I have a special saw all ready and sharpened up.  It will be a cinch."
The baby Jesus is expected in November and women around the world can see that DiCaprio is really starting to show.  He has already received gifts of maternity hats and so far he has about two thousand.