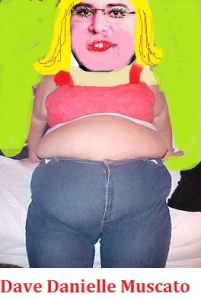 Dave Muscato the Atheist Prick is now an atheist C****
[Damien LeGallienne reporting]
"I am sure everything will go smoothly because how hard can this kind of surgery be?  How hard can it be to remove a pesky little prick from someone who is already a huge cunt?" [Damien LeGallienne]
Dave Muscato — the publicity director for an organization that has invented itself as "American Athiests "– is getting a sex change.
Yes, the ATHEIST PRICK will soon be – or is already – the ATHEIST CUNT  How hard was that to predict?
It's okay to puke.  That's what Jesus would do.
Yes, on top of all the other sickening things about this atrocious lump of complete un-fuckability,   the self-loathing monster, heretofore known as Danielle Mucato,  is now venturing even deeper into his misbegotten life — scraping the bottom of the barrel  in a vain attempt to find what's missing.   He looks the way he does — short fat bald  — like the jolly guy who runs the local butcher shoppe, and then he thinks that YOU are a bigoted misogynist for thinking that he does not look like a lady.   Where is  P.T. Barnum?  Seriously!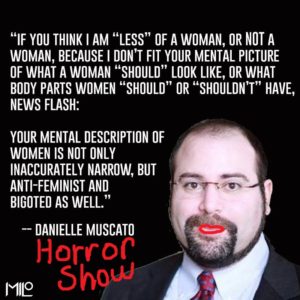 The whole "defiant atheist" thing wasn't cutting it for him.    He wasn't getting the attention he craved.  He wasn't ENOUGH of a misfit.  He was too close to normal-ugly for comfort.
It wasn't enough to be a fucking annoying douche bag who mercilessly bashed on Christ and Christians and Christmas — he needed more.  And now, MORE means — chopping off his dick and walking about as the world's most repugnant GENDER FUCK.
And, to make matters even more enviably loathsome, he has teamed up (he thinks) with the BLACK LIVES MATTER people who are, as we all know, so very tolerant of gays and trannies.  NOT !!!
NOTE TO DANIELLE:  BLM does not want white people — let alone white freaks and misfits – – to support them.    
ATTENTION:  Dave (Danielle) Muscato, is tearing down that bitch of a stubby dick and putting a vagina where a vagina OUGHT TO BE!  
Naturally my very own brand of malicious  fun starts just by imagining the  unimaginable horrors that can be wrought from a hypodermic needle and a  bottle of estrogen.  This is epic.  It's a mountain of progesterone pills and dilating dildos.  This, ladies and gentleman, is a complete horror show.
What we are seeing here is the reverse menopause of Gilbert Grape's mother, and this transition is going to make Bruce Jenner look like a very well-adjusted Girls Gone Wild vixen
Normally, we wouldn't give two shits about this unhappy round midget, but this dudette is a fiend and an unapologetic Christian-bashing monster.   He tries to ruin Christmas and everything that is normal because he is angry and unhappy — and he wants you to be angry and unhappy as well.
So,  speaking as a privileged White European Christian male, I wish Dave (Danielle) Muscato, the best of luck with its penis removal and subsequent pussy installation.
I am sure everything will go smoothly because how hard can this kind of surgery be?  How hard can it be to remove a pesky little prick from someone who is already a huge cunt?
NOTE:    Do some of you not see the mission of this blog?  Please stop making my job so easy with angry comments that serve only to reinforce my opinions.