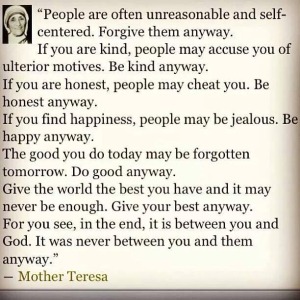 Here is the latest Internet hoax and  the photo that comes with it.  Facebook morons are pumping these out faster than the Franklin Mint pushes out worthless 9-11 memorabilia.
MOTHER TERESA NEVER SAID THIS!  IT'S EVEN ADDRESSED THERE IN BLACK AND WHITE ON HER OFFICIAL WEBSITE.  IT LISTS THE FAKE QUOTES AND THIS IS ONE OF THEM.  HOW FRIGGING HARD IS IT TO LOOK SOMETHING UP BEFORE YOU SHARE IT WITH THE REST OF YOUR MORONIC FACEBOOK SIMPLETONS?
This quote, printed over a photograph of Mother Teresa, is floating around on Facebook.  It is inspiring millions of simple-minded Facebookers — but there's a problem.  SHE NEVER SAID IT!   There is no record of the Mother Teresa ever saying this and on her official website, this quote is singled out as one of the fakest.   Here is the page 
Das Quota
  If that one doesn't work, the reprint of the page is printed at the bottom of this.
Devout followers of the Mother Teresa have been trying to tell people in social media for years that this quote not genuine, but we live in the day where all one needs to do is put something up on Facebook and it becomes the law of the land — at least where idiots are concerned.
Why do people on Facebook fall for this baloney?  Last year it was the fake quote attributed to Betty White about testicles and vaginas.  Last month it was all about fake Robin Williams quotes,  and this week it's about the Mother Teresa crock of bull.
All you need is to be vaguely familiar with how to use the internet — how to research something —  to know that this is not true,   I hate to tell all you people who have been magically hoisted onto a heavenly plane by this quote that it is 100% not true.  MOTHER TERESA NEVER SAID IT.
Please be advised that Mother Teresa
did not

say or write the following:
People are often unreasonable, illogical, and self-centered; Forgive them anyway. If you are kind, People may accuse you of selfish, ulterior motives; Be kind anyway. If you are successful, you will win some false friends and some true enemies; Succeed anyway. If you are honest and frank, People may cheat you; Be honest and frank anyway. What you spend years building, someone could destroy overnight; Build anyway. If you find serenity and happiness, They may be jealous; Be happy anyway. The good you do today, people will often forget tomorrow; Do good anyway.http://www.motherteresa.org/08_info/Quotesf.html