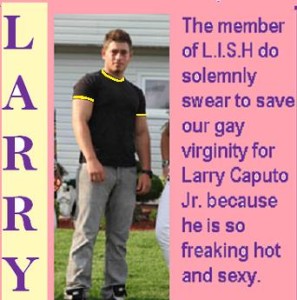 Larry Caputo Jr in Gay Situation.
Larry Caputo Jr is the new talk of the town — and some of it is pretty darn naughty if you axe me. There's already a sorta-kinda gay scandal hanging around TV's newest heart-throb.
In case you don't know, Larry (Lawrence) Caputo Jr. is the hunky and handsome son of Theresa Caputo — you know — the Long Island Medium?
The poor guy has only recently been thrust into the limelight, and already his movie-star-good-looks are causing him problems within the very pushy and demanding gay community.
Don't the ghosts of James Dean or Montgomery Clift or Rock Hudson warn Larry's mom Theresa that regular people assume all great looking male celebrities (even the reality star variety) have got to be gay?  Oh wait, those three dead guys are  totally gay — so scratch that idea.
Larry is supposed to get a guest spot on this show — >http://www.imdb.com/name/nm3834680/
Anyway, the gays out there in the darkness absolutely LOVE LOVE LOVE Larry Caputo Jr, and right now he might have more gay male fans that just about anybody in the public eye — and why shouldn't he? He's great looking, he has an awesome body, an engaging smile, great hair, and — holy shit — his mom can talk to Judy Garland.  What's not to love?
In one major US city there is a fanatical gay fan club that devotes itself entirely to worshipping Larry Caputo Jr.
"Larry is so gorgeous I want to marry him and have babies with him via in vitro feminization," said Hector Minueza of Brooklyn, NY USA,
Yes, Hectoro Minueza of the Brooklyn chapter for "L.I.S.H." or LARRY IS SO HOT, actually said that.
L.I.S.H is a group of uber-gay, lower income New York area club Ravers and Emos who meet up at various clubs in and around the New York/New Jersey area. Their goal is to eternally love and devote their entire lives to Larry Caputo Junior and only Larry Caputo Jr.
"To join L.I.S.H you have to totally swear your virginity to Larry until he finally realizes that he is gay and must be with one of us and I hope it's me," continued Minueza.
"His mommy is like the Long Island Psychic, you know, and she is like the greatest psychic in the world. God gave her that gift and he sent her son into this world because the world needs more hot guys and psychic mothers. Oh my god, I so love Larry Caputo I can't take it anymore — OH MY GOD!"
It turns out that the rather flamboyant Hector Minueza literally "can't take it" and he is now in therapy to try and quell his obsession over the young hunk. Hector's mother Graziella believes that Theresa Caputo has put a spell on her son and that he will never be able to love another man.
While this might seem like a heartbreaking plight for poor Hector, one progressive European doctor believes that having so many young gay guys devote their virginity to Larry Caputo Jr, is a good thing.
"I think that the idea of club Ravers and low income gays and Emos saving their virginity for Larry Caputo Jr is a great thing," said Dr. Raymond Tote-Tundy MD PhD, a psychiatrist at the Skylight Institute for Psychological Study in Switzerland.
"This kind of gay-virginal promise of devotion puts young Larry in a great position to teach young gay and straight youth about the importance of love and monogamy in a relationship.
"I think that Larry Caputo Jr should reach out to the gay community and tell them that he admires what they are doing with L.I.S.H. and he should embrace it. It doesn't matter if he is gay or not gay or soon to be gay or whatever. Larry essentially owes these young gay guys something for their devotion and he seems nice enough to engage them."
The whole issue about gay love for Larry Caputo Jr might one day be an issue in Dr. Tote-Tundy's own family. Here's what he said about that.
"My own son Victor is in love with Larry.  Yes, I am the proud father of a gay Emo son and if he wants to be in love with Larry, I am 100% behind him until the day comes when Larry is behind him — or he is behind Larry. I know that might sound a bit sarcastic, but you have to have some humor about all things, and the point here is that I feel qualified as a physician to say that Larry Caputo's close ties with the gay community are something he should embrace and be thankful for.  When the gays love you, you can do no wrong.  He should not have turned down role in that TV series for which you sent me the link.  It would have been a great spot for him."
So there you have it. Larry Caputo Jr's situation in life is very similar to his mother's. His god-given attributes are both a blessing and a curse. If he reaches out to the gays who love him, he will be doing a service to mankind, but at the same time he might venture into the heart of darkness.  Theresa Caputo finds herself in the same position when she reaches into the spirit world.
The underlying question on the minds of so many young gay guys out there is, "Is Larry Caputo Jr. gay?" Well, The Damien Zone can only tell you the facts as we see them.
A) Larry Caputo Jr is very sexy and good-looking —  but a lot of guys – gay or straight — are very sexy and good-looking.
B) He likes to work out and pump up his muscles — but again, a lot of gay and straight guys like to do that too.
C) He plays sports — that's kind of straight.
D) He likes to wear tight and form-clinging t-shirts — which is kind of gay.
E) He also has been quoted as saying "My mom is a super-hero" — Okay, well, that is totally something a gay son would say, but so would a son with a real bad and deadly disease.
So *shrug* maybe there is a ghost of a chance for the Larry Caputo Junior devotees at L.I.S.H.   Who knows?  Like us on Twitter and you will get updates on this story and other sexy stuff. https://twitter.com/thedamienzone
Damien LeGallienne reporting for TheDamienZone.com