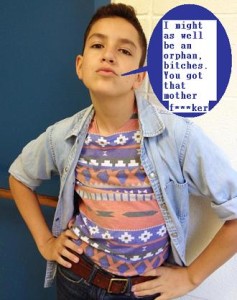 "Where do you draw the line between the bully and the bullied," asked psychiatrist Dr. Daniel Smith.
"You wonder why you have bullying? Well, Lohanthony's attitude and wildly sexually ambiguous behavior might frighten a lot of young and impressionable kids — boys especially. Fear and self-seeking are the building blocks of bully behavior and if a young kid is in a state of fear about his own identity, the last thing he'll need is somebody like Lohanthony looming in his psyche.
"Where do you Americans draw the line?  You wonder why you have bullying and then you glorify a kid who bullies in reverse? This kid's attitude and wildly flamboyant behavior might frighten a lot of young and impressionable kids or perhaps it might even make them feel inferior because they aren't glorified for their own rude or inappropriate behavior.
Sometimes, you can be a bizzaro bully — and this is what Lohanthony is becoming — and he's doing it at about 176,000 miles per second. [Dr. Daniel Smith MD, psychiatrist for TheDamienZone.com  Oct 1, 2013.]
(Editor's note: 176,000 miles per second is the speed of light for you stupid kids who watch this idiot when you're supposed to be doing your science homework).[
There's this creature on YouTube and Twitter who calls itself "LOHANTHONY" — seems like it's a combination of Lohan and Anthony, right   This Hollywood writer wants to give a him a big part in a sitcom — > http://www.imdb.com/name/nm3834680/?ref_=fn_al_nm_1
We all know who the LOHAN is, but who is the LOHANTHONY and why is he getting offers to star in sitcom written by http://www.imdb.com/name/nm3834680/?ref_=fn_al_nm_1   ???
Well, it seems for the moment — or at least for the next 15 figurative minutes — that the Anthony in Lohanthony is a 15-year old "pansexual" kid who has a zillion followers on YouTube and Twitter. He has admirers all over the planet and he's beloved all over the net — but it seems that this poor creature who is so beloved by so many hasn't got the one thing that really matters — a set of parents.
Because he seems to have no parents, I am going to address you — my readers – the way Lohanthony would address you.
We don't think he's an orphan, but still there's that uneasy question that forces itself into one's mind — "Doesn't this snaps up kid have any parents?" Are his parents "bitches" who he's got tied up in the cellar?
Okay, Okay, Okay, I get it. I am not a kid and why do I care…bitches? Actually I don't care…bitches, but since my duty is to expose motherf**ing stupidity and dumbness, bitches, it's almost impossible to avoid not liking this motherf**ing kid.
Well, bitches, let me clarify — I don't dislike the motherf**ker. I dislike the fact that what he does is seemingly acceptable to people who would die of humiliation if this were there kid — and where are his parents? Who took the parents, bitches?  I have a right to know what happened to this kid parents.  If I new I'd have a pretty good idea what happened to make this kid behave so brazenly. 
Anyway, I defer to social etiquette when I refer to this kid as anything other than a kid — even though he has some other obvious things going on that are entirely his own business…..but are they really his own business?
The kid uses really nasty language and all this talk of bitches and mother**kers is totally annoying and meaningless. Why does YouTube applaud this behavior from a child?   I realize that he is raking in money — he's even been on a few TV shows — but is this really acceptable viewing for teens and pre-teens.
Lohanthony is an annoyance and he typifies the dumbing down of the USA. His parents should be brought up on charges for allowing this little jerk to influence the mind of all the regular children who aren't as glib as this little twerp.
Daniel Tosh is another scum bag for giving this kid an adult audience — and he did it in such a lewd and lascivious way. It was pretty gross — and it takes a lot to make me sick. If Tosh did to this kid in real life what he did to him on TV, he would have probably be in jail right now.
"Where do you draw the line between the bully and the bullied," asked psychiatrist Dr. Daniel Smith. You wonder why you have bullying? Lohanthony's attitude and wildly sexually ambiguous behavior might frighten a lot of young and impressionable kids — boys especially.  Fear and self-seeking are the building blocks of bully behavior and if a young kid is in a state of fear about his own identity, the last thing he'll need is somebody like Lohanthony looming in his psyche."
"Because of the fame that has fallen before this outrageously flamboyant weirdo named Loahnthony, we are going to start seeing a lot of copycats. I like to call them bizzaro bullies — and this is what is starting to happen — at about 176,000 miles per second. ( that's the speed of light for you stupid kids out there who watch this idiot on YouTube when you're supposed to be doing your science homework)."