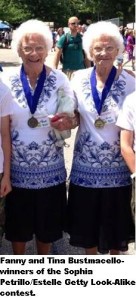 Ninety-eight-year old  twin sisters who used to rent their second floor Brooklyn apartment to Madonna way back when she was a struggling dancer in the late 1970s, have recently won the official, Worldwide Sophia Petrillo Look Alike Contest which was held last week in Bay Ridge Brooklyn.
The pair, who never married and live on a fixed income, donated all of their $5,000 first prize money to an animal rescue organization.
Fanny and Tina Bustamacello, both 98 years old, and both still living in the same home where they once rented rooms to Madonna, finally entered the contest on a whim when, after nearly 30 years, they got tired of people telling them how much they look like the character Sophia Petrillo which was played by the unforgettable Estelle Getty on the long running hit TV sitcom "The Golden Girls."  According to the event's founder, it was Fanny and Tina who inspired the creation of the contest in the first place.
"I used to see Fanny and Tina back when I was a kid and the show was first starting out," said promoter Danny Casmanterri of Staten Island.
"I thought they looked like twin mirror images of Sophia Petrillo and I hoped that one day I could have a Sophia Petrillo look alike contest.  I waited until Miss Estelle Gatty passed away before I started the contest because I knew she was in failing health and I thought it would be in poor taste to have people think I would mock or poke fun at her.  On the contrary.  Miss Estrelle Getty is my idol and in the past few years the winners have always been people who simply dressed up as Sophia.  This year we had the real deal.  It was a dream of a lifetime to have the two women who inspired my life's work to actually show up and enter the contest.  I don't think I'll ever have to have another Sophia Petrillo Look Alike Contest.  In fact, plans are already underway for a Suzanne Pleshette look alike contest in 2014 and I think that's going to be great fun."
As for Fanny and Tina, they're taking the whole thing in stride and they think it's a lot of fun.  Fanny does the talking for the pair because a stroke suffered by Tina back in 2010 has left her unable to speak coherently.
"When people used to tell us that we looked like the TV character we were kind of insulted because back then when the show started we were only in our 70s and the character of Sophia was supposed to be a woman of eighty or so," said Fanny Bustamecello from the living room she shares with Tina on the first floor of the very modest two-family home they inherited from their parents in 1951.
"To be honest, Tina is a lot more worried about looking old than I am.  She was always the sister with the vanity.  Even now that she has had her stroke, she worries that her speaking is slurred and she is ashamed.  I think it's crazy to be ashamed just because you had a stroke and I tell her all the time to start talking.  But she worries what people will think. The doctors say her speech will probably not improve very much but her mind is 100% intact and her speech isn't all that bad really.  And she writes beautifully.  She has penmanship you would not believe.  In the 1930's she was a legal secretary who wrote personal letters for executives in long hand.  You would have to see her handwriting to believe it.  I didn't work.  I always stayed home with Momma and Papa because they needed me.  Momma had a heart condition and Papa wore braces on his legs from polio and still worked 14 hour shifts at Westinghouse as a security guard.
"Tina has been very down lately because of her stroke.  Winning the contest boosted her spirits a little because we're almost 99 years old and to still look the same as we did 30 years ago is a compliment I suppose."
What's even more interesting about Fanny and Tina is that the modest Brooklyn home they inherited when their parents were both killed in a car accident in 1951, is the same home they once shared  with a young struggling singer they knew as Madonna Ciccone who later she went on of course to be the iconic singer Madonna.
"We went into a bad slump after Momma and Papa were killed and for years and years we never rented the upstairs apartment because we worried that were two little women alone even though we needed the money really bad," recalled Fanny. 
"Then one day in 1977 a pretty little girl dressed in raggy clothes rang the bell and she asked about the second floor apartment.  Her name was Madonna Ciccone and she was from Detroit and she was looking for a place to rent that was close to Manhattan because she wanted to be a dancer.  A friend of ours who is now passed on, knew Madonna's family and told her to knock on our door and ask.  To be honest, by the way she looked, if she didn't come with that note from our friend Helen, I would never have let her in. She looked like a homeless hippie.  It was part of her look or her style of course but we didn't know that when we first saw her.
"We really didn't want to rent anyway but we were struggling financially and so we let her have  the apartment for $175 per month with the stipulation that she would help us with little things like bringing out the trash bags or sweeping the steps.  It wasn't a lot of work – just little things.  And let me tell you, she was a little angel.  We loved her and when she moved out 3 years later we were really sad, but then she became very famous and she still keeps in touch and sends us birthday cards and calls a few times a year.  She's a doll.  I told her to come to the Sophia Petrillo contest but she said that if she went it would be a madhouse and she wanted us to get all of the attention.  She's so unselfish and such a darling.  She's a treasure."
In spite of the fact that the women have only $1,300 in the bank and live on small social security and the rent they get for the upstairs apartment from a Honduran family, the twin sisters donated the entire $5,000 Grand Prize check to a bunch of local animal shelters and rescues.
"We would both like to live forever," said Fanny, "But we have to be realistic about things.  What are we going to do with $5,000?  we would both rather help animal charities.  We like human charities too and you have to give to them, but $5,000 goes a long way for an animal shelter.  If I gave it to the Red Cross or somthing, nobody would notice.  Of course every little bit helps the big charities but I would like the money we won to do things that we can actually see with our own eyes.  If I see that my local rescue has enough food for the cats and dogs, I can actually witness my money doing good work."
A spokesman for Madonna had this to say:  "Madonna thinks of Fanny and Tina as grandmothers and she loves them dearly.  Giving away all the money to animal charity is typical of the kinds of things they would always do for people or animals in need.  They will help anyone who needed help even they have so little.  Madonna will never forget them and she plans on visting them very soon."
NOTE: Commenting here is very easy. We do not cross check emails very often and the only drawback is that you have to wait a while for your comment to post. The Damien Zone does not censor comments — unless it's somthing outrageous. Be patient — your comment will appear. Keep checking back. If your comment annoys or impresses the editor, he will personally address it.