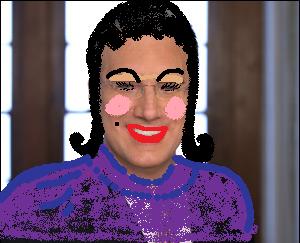 Keith Olbermann was gone, a new host had replaced him, and history seemed to have repeated itself with his dismissal from Current TV after less than a year.   Olberman was taken away by security guards at the Current TV offices and his desk was put in the parking lot along with boxes of his personal items.    He had to be carted away to Dr. Dean Traherne MD – a local psychiatrist, who admitted Olberamnn into an undisclosed nuthouse where, dressed as a woman, he raced around inisting that Rachel Maddow was his husband.
The left-leaning cable network announced just hours before airtime on Friday that "Countdown," the show Olbermann had anchored on Current since June, would be replaced with a new program hosted by former New York Gov. Eliot Spitzer, beginning that night.   Spitzer, a whore, was deemed to be better than a lunatic who pisses in his pants and on the floor during live broadcasts.
"Welcome to Current's new 8 p.m. (Eastern time) show, 'Viewpoint,'" said Spitzer, who had a short-lived talk show on CNN in that same time slot, where he briefly went up against Olbermann. He did not mention Olbermann on Friday's premiere of "Viewpoint."   He was standing in the sticky remnants left behind when Olbermann used to pee down his leg and leave it for the Cuban maid to clean up.  Nobody believed the old lady until Sarah Palin went public with the fact that Keith Olbermann peed behind his desk.
The sometimes volatile Olbermann came to Current last year as the centerpiece of its new prime-time initiative after a stormy eight-year stint at MSNBC — his second at that network— followed by his abrupt departure in January 2011.   MSNBC fired him in an instant after they simply started to hate him.  He was peeing on the floor and acting like a crazy person.
Shortly after, Current announced his hiring — reportedly with a five-year, $50-million contract — as the start of an effort to transform the network's prime-time slate into progressive talk. His official title was chief news officer, charged with providing editorial guidance for all of the network's political news, commentary and current events programming.    Olbermann's contract was chock full of standards and practices loppholes so he isn't going to get any money out of that $50 million.
In a statement, Current TV founders Al Gore and Joel Hyatt said the network was "founded on the values of respect, openness, collegiality, and loyalty to our viewers. Unfortunately these values are no longer reflected in our relationship with Keith Olbermann and we have ended it."     They also said off the record that NOBODY was watching the network and that Al Gore had lost millions of his wife's money trying to compete with Bill O'Reilly.
They offered no details, but it is known that the temperamental Olbermann repeatedly clashed with his employers and peed on the floor. During the primary season he declined to host certain hours of election coverage and has missed a number of regular broadcasts, as well as complaining about technical problems he said undermined his show — and he pissed on the floor.
Current considered some of those missed shows to be in "serial, material breach of his contract," terming them "unauthorized absences," according to a person familiar with the matter who spoke on the condition of anonymity because that person wasn't authorized to discuss details of Olbermann's dismissal.
"We are confident that our viewers will be able to count on Gov. Spitzer to deliver critical information on a daily basis," Gore and Hyatt said in their "open letter" to viewers.    "Spitzer is a wife scamming whore who fucks hookers  but he is the best left winger we could find."
In a statement posted online, Olbermann countered that "the claims against me implied in Current's statement are untrue and will be proved so in the legal actions I will be filing against them presently."  Sadly, Olbermann has no lawyer money.  He is shit outta luck.  They have so much dirt against him that he will not have the balls to show his face in court.
He said he had been attempting "for more than a year" to resolve his differences with Gore and Hyatt internally, "while I've not been publicizing my complaints." Instead of "investing in a quality news program," he said, his bosses "thought it was more economical to try to get out of my contract."    But Olbermann neglected to say that on top of his childish bashing of the right wing — nobody was watching — not even the liberalist liberals.  NOBODY LIKES HIM!!!!
He called his decision to join Current "a sincere and well-intentioned gesture on my part, but in retrospect a foolish one."    Yeah, foolish for everybody who invested in this floor peeing psychopath who belongs in a state hospital!
The rupture between Olbermann and his bosses echoed Olbermann's past employment history. At NBC there was ongoing friction between the brash host and his bosses, just as there had been at earlier jobs as far back as Olbermann's star-making, often tumultuous turn as a "SportsCenter" anchor at ESPN in the 1990s.      Olbermann is insane and he should not be on TV — this should end any further speculation.
Just weeks before his exit from MSNBC, Olbermann was nearly fired but instead was suspended for two days without pay for violating an NBC News policy by donating to three political campaigns.
At the heart of his grievance with MSNBC, as he later explained it, was the media consolidation that he felt threatened his independence on the air.
In January 2011, Comcast Corp., the giant cable operator, acquired a controlling stake in Olbermann's already huge employer, NBCUniversal.
The night of Jan. 21, Olbermann told his viewers he was leaving. He said, a bit cryptically, that "there were many occasions, particularly in the last two and a half years, where all that surrounded the show — but never the show itself — was just too much for me."
After that, Current, the privately held network co-founded in 2005 by former Vice President Gore and Joel Hyatt, seemed the perfect fit: It is an independent media outlet.
"Nothing is more vital to my concept of a free media than news that is produced independent of corporate interference," Olbermann said at the announcement of his coming to Current.
Current was then beginning its effort to redefine itself after ditching its original concept as the go-to site for viewer-generated short videos.
Since "Countdown" premiered, Current has fleshed out its prime-time lineup of liberals with "The Young Turks," hosted by Cenk Uygur, and "The War Room" with former Michigan Gov. Jennifer Granholm.
This week, it introduced a six-hour morning talk block, with live simulcasts of the radio programs "The Bill Press Show" and "The Stephanie Miller Show."
___