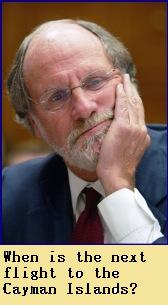 "Where Corzine is concerned, the MF in MF Global, might just stand for M**her F***ker. "  [ME]    
Federal regulators have discovered that hundreds of millions of dollars in customer money has gone missing from MF Global in recent days, prompting an investigation into the brokerage firm, which is run by Jon S. Corzine, the former New Jersey governor, several people briefed on the matter said on Monday.
The recognition that money was missing scuttled at the 11th hour an agreement to sell a major part of MF Global to a rival brokerage firm. MF Global had staked its survival on completing the deal. Instead, the New York-based firm filed for bankruptcy on Monday.
Regulators are examining whether MF Global diverted some customer funds to support its own trades as the firm teetered on the brink of collapse.   READ THE WHOLE STORY in the link below: http://dealbook.nytimes.com/2011/10/31/regulators-investigating-mf-global/?partner=rss&emc=rss&src=igw