A gripping photo of slain Navy SEAL Jon Tumilson's faithful Labrador retriever lying next to the Iowa native's flag-draped coffin last week in Iowa launched an Internet frenzy and international media coverage.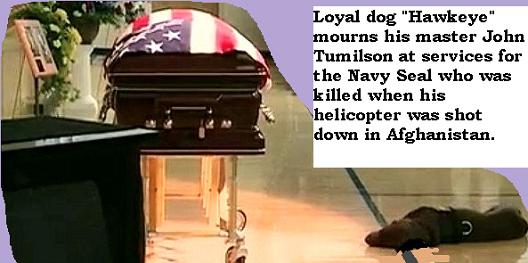 On Thursday, a Google search found 177,000 hits related to the photo, including ABC News, the Daily Mirror in the United Kingdom and Huffington Post.
The Des Moines Register's story about the funeral, which mentioned Hawkeye, was still among the most popular stories on DesMoinesRegister.com six days after the funeral.  More photos are here Des Moines Photo Mat.
News photographers weren't allowed in the Rudd-Rockford-Marble Rock gym for the service last Friday, in large part to protect the security of the other Navy SEALS attending the funeral. But his cousin, Lisa Pembleton, couldn't resist recording the striking image of Hawkeye, the dog, appearing to guard his slain master.
Hawkeye led the family into the gym for the service before accompanying Tumilson's friend, the dog's new owner, to the stage during the service.
Pembleton could not be reached for comment. She released a statement to California-based Home Post that read: "I hadn't planned on taking any pictures other than with family. However, from my seat at the funeral, I felt compelled to take one photo to share with family members that couldn't make it or couldn't see what I could from the aisle."
Tumilson, 35, died Aug. 6 when his helicopter was shot down in Afghanistan.