Does Kelsey Grammer have a teeny weeny penis or is his failed actress, no-talent ex-wife Camille Donatocci-Grammer just a mindless lame brain?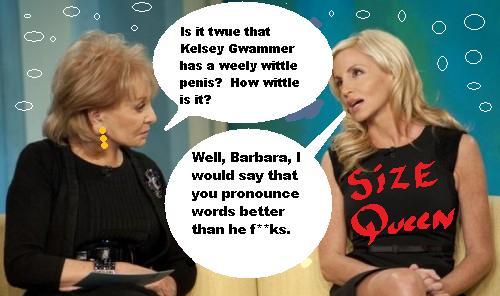 Camille Grammer has apologized to ex-husband Kelsey Grammer for insulting the size of his penis. She says that she is sorry she made a wise crack about his wee-wee.
According to insiders, Camille's rude remark was, "Big hands, big feet, big disappointment," alluding to the fact that his wang was not big enough to give her "tired old broke ass V-Jay"  the pleasure that it needs to continue to find another famous people to hump. 
Of course we can't accuse her of sleeping her way to the top because she's never really had any acting jobs, and if Kelsey's ding-dong was so small and unsatisfying, why did she marry him in the first place?  Why didn't she marry some well hung celebrity like — hmmmmm —– James Woods or Tobey Maguire — they say those two have big ones.
This is what the failed, wanna-be actress said to TMZ.
"Some joking remarks I made to Kyle Richards got picked up and caused my ex-husband great embarrassment and for that I sincerely apologize. While the media added words and blew it out of proportion, I acknowledge my part in this and regret my remarks."
She acknowledged her "part?"   What about Kelsey's "part" — how small is it and why did she say that?   It made her sound like Snooki – who, by the way, is more talented than this Hollywood hat check girl.
According to sources, Camille wants the custody agreement between the two to be split 50/50, but Kelsey wants all or nothing. She claims she'd like to settle all the differences between them for the sake of the kids. But if she has to split Kelsey's dick as part of the estate the halves might be unrecognizable as a penis.  But a small penis is not really an "asset" so maybe that will be left out of the negotiations.
She also told TMZ:  "Now he will only communicate through lawyers and others and I fear the message we're sending our children."   
HUH!  The message "WE" are sending to your children?  Hey, honey!  You went to the national media and mocked your husbands penis for the whole world to read and see and hear.  What kind of message is that to send to your children — that you are a frigging no count a-hole and a potty mouth, vindictive dirty skank like all the rest of the Hollywood celebrity screwers? 
How does Camille Grammer assume her children felt when hearing their mom call their dad's penis small during an interview? If they didn't actually hear the interview (they probably didn't) word circulates pretty quickly. Between the internet and TV, it's pretty likely the kids heard the whole sordid story—little details (no pun intended, Kelsey!) and all.
Anyway, she has no talent — Kelsey has tons of talent — so maybe his dick is small — who cares?  I do for chrissakes — how small is it?   TheDamienZone needs to know.