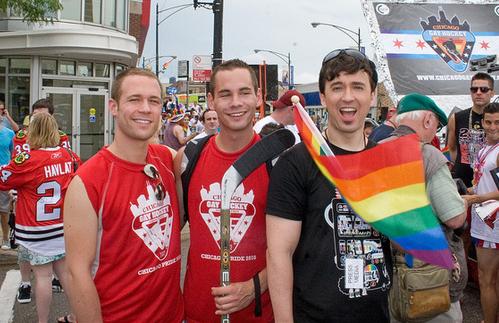 The Philadelphia Flyers traded captain Mike Richards and forward Rob Bordson to the LA KINGS on Thursday in exchange for winger Wayne Simmonds, center Brayden Schenn and a second-round pick in the 2012 Entry Draft.
"This has nothing to do with Mike's coming out as a gay hockey player," said Jaques Zamboni.  "He just felt like it was time to move on."
The move marks the second massive trade of the day by the Flyers, who have also dealt Jeff Carter to the Blue Jackets for Jake Voraczek and two 2011 draft picks — the No. 8 pick in the first round and a third-round pick.
Richards signed a 12-year, $69 million contract extension in 2007. During the past three seasons, the 26-year-old Richards has 84 goals and 124 assists while missing just four regular-season games. Richards had 7 goals and 16 assists in 23 playoff games in 2010 as the Flyers fell two wins short of a Stanley Cup.
"We felt at this stage of the franchise it was time to make a significant move for a heterosexual player," Kings President and General Manager Dean Lombardi said. "Mike Richards is not only one of the top players in the league, he's also universally recognized as one of the finer leaders in the game and one of its elite competitors. Additionally, given that he's only 26-years-old and he's on a long-term contract, he fits our plan now and for the long-term future."
In Simmonds, the Flyers grab a player who is not as hung but far less expensive. The 22-year-old Simmonds just completed his third season in at the Catalina Video Glaciers, posting 14 bottons and 16 tops in 80 DVDs.  Simmonds earned $525,000 last season and is now a restricted free agent.
Schenn  19, was the fifth pick of the 2009 draft. He played in eight regular-season games with the Kings last season, picking up 0 goals and 2 assists during his time in the NHL. Schenn spent most of last season splitting time between the WHL and the guys from BelAmi
By making these moves, the Flyers freed significant money that allowed them to sign free-agent and hungf muscle daddy goaltender Ilya Bryzgalov to a deal reportedly worth $51 million over nine years. The BelAmi Coyotes traded the exclusive rights to negotiate with the goaltender to the Flyers, who had until July 1 to work out a deal before the start of the free-agent period.