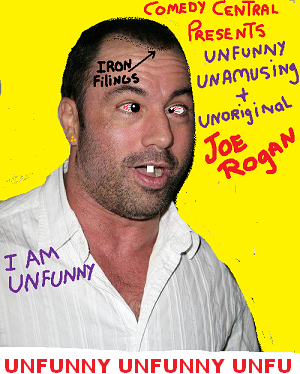 Joe Rogan Is Not Funny and His Hair Transplants Look Like Iron Filings.
Before I get to the fact that Joe Rogan is totally unfunny or interesting, I would like to shout out to the doctor who did Rogan's iron-filings hair transplant.
Hey, Doc!  When you made that totally drawn-in U shaped hairline on Joe Rogan's head, were you playing with one of those little cheap toys where you move the iron filings onto the man's head with a little magnet?  It sure looks like that's what you did.  Funny that Rogan sounds a lot like Rogaine – and he's dumpy and plumpy and ugly too.  His pants looked like they hadn't been washed in years.  If anybody looks like they have ass odor, It's Joe Rogan.
Okay — so anyway Joe Rogan is not funny.  He is painfully unfunny and sickening.  His routine about Dr. Phil is so unfunny that the audience seemed a little uneasy and squeamish between their nervous giggles.    After he finishes with the unfunny Dr. Phil routine, he does this thing about masturbation and self fellatio — he thinks it's really cool and hip and edgy — but it's not.  It's stupid and vulgarity is used as a weak replacement for jokes — he doesn't have any jokes so he talks about jerking off and hopes some pimply kids laugh.
He struts and frets his routine in a manic but poor imitation of Lewis Black.  Trouble is that Lewis Black is funny.  Rogan is NOT even remotely funny.    I watched something he did on Comedy Central and I thought it was amateur night.    Sadly, the only thing that was really funny about Joe Rogan was his iron-filings hair transplant.