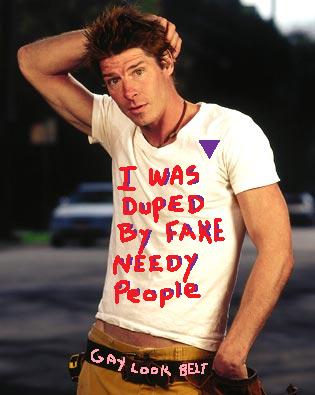 Ty Pennington and the philanthropic crew of ABC's "Extreme Makeover: Home Edition" have been giving families the houses of their dreams through sweeping seven-day renovations and reconstructions since the series premiered in 2004. The uplifting reality show brokers in hardest-luck cases that sometimes appear too sad to be true. And in some cases, as it turns out, they are: according to a recent trial in Oregon, it seems the would-be do-gooders were
duped by a family falsely claiming
two very sick young daughters.
"Extreme Makeover" recipients Chuck and Terri Cerda are the parents of Molly and Maggie, 10 and 8 respectively. Terri, in her appeal to the show, said she suffers from combined immunodeficiency disease, as do her daughters, who had to wear masks to guard against the toxins coursing through the air of their rundown, mold-filled Las Vegas house. You can watch a video of Terri and the two girls posted by the Immune Deficiency Foundation above.
That was before "Extreme Makeover" transformed their abode in March 2009 into "an opulent new home that included high-quality air filtration systems, an elevator, solar-heated swimming pool, gourmet kitchen and floor-to-ceiling stone fireplace," as The Oregonian's Steve Mays writes. But it turned out the Cerdas "couldn't afford the increased cost of operating the larger home. By fall 2009, the house was for sale and the family moved to Oregon."
Which is when their real troubles began. Mays reports:
Several doctors and a hospital social worker began to question Terri Cerda's insistence that her daughters had chronic health problems when tests and examinations indicated otherwise. In January, Dr. Thomas Valvano, an OHSU Doernbecher Children's Hospital pediatrician who specializes in suspected child abuse and neglect, reported the Cerdas to state child-welfare authorities, and in February, the state took temporary custody of the two girls.
The ensuing case in Clackamas County Circuit Court told a story much different from the one presented on television.
Six doctors testified that Molly, 10, and Maggie, 8, did not live in constant medical peril, as Terri Cerda claimed.
Valvano went further. The Cerda children, he told the judge, were victims of medical child abuse.
You can read more about the revelatory court proceedings here. Here's a look inside the Cerdas' house, post-makeover:
The Cerda family's case is not the only controversy "Extreme Makeover: Home Edition" has faced in its seven years on air.
Back in 2005, for instance, five orphaned siblings sued a couple that allegedly took them into their care in order to get a new nine-bedroom house before turning the kids out one by one. In 2007, a Hawaii couple that benefited from the program's generosity was revealed to have a household income of more than $200,000. And last year, the Wall Street Journal detailed the plights of three families who either struggled "to pay the upkeep on their expensive new homes" or ended "up with bigger mortgages that are hard to maintain."