THE PHOTO IS A GAG BUT THE STORY IS TRUE!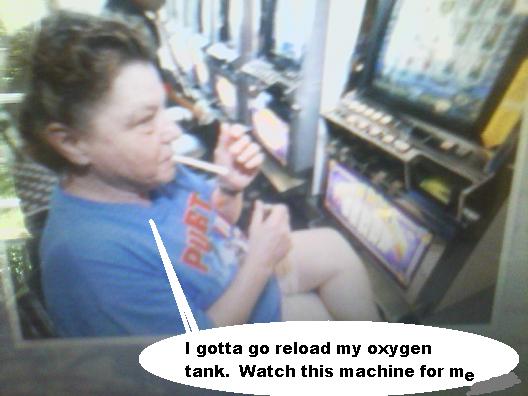 Tropicana Casino and Resort's big-stakes table games idea came back to bite them in the ass in April when one high roller taking the property for a record haul of $5.8 million.  The guy made so much money that the casino was shitting a brick when he beat the dealer on one hand that was worth $1,000,000.
As a result, Tropicana was the worst performer among Atlantic City's 11 casino hotels in April – a month that saw revenue tumble 7 percent for the entire industry. It was the 32nd straight month of lower revenue for the nation's second-largest casino market.  Good for them because they're a-hole thieves and I would bet that the guy is never allowed back in the casino.  Casinos hate to lose and when they lose they say that the winning shlub must be cheating.
Altogether, the casinos posted $289.4 million in revenue from the slot machines and table games, compared to $311.5 million a year ago, the New Jersey Division of Gaming Enforcement reported Tuesday. Slot winnings fell 3 percent to nearly $208.6 million, while table games revenue plunged 15 percent to $80.9 million.
Lately, Tropicana has been using high-stakes table games as the centerpiece of its casino operations. Tropicana had posted higher table-games revenue in six of the past seven months, but its lucky streak ended in dramatic fashion in April.
"We ran very unlucky," lamented Mark Giannantonio, Tropicana's outgoing chief executive officer.   Notice that Giannantonio is OUTGOING –loser — and boo-hoo for the poor casinos having a string of bad luck. 
Let's see $6 million dollars — that's a dollar for every piece of poop that dropped into every old lady's diaper last year while she was putting her fixed income through their rigged slot machines.  Haha!