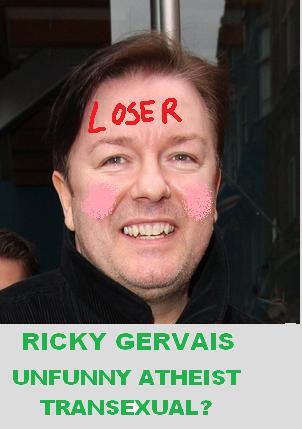 The law of American gravity states that it's virtually impossible for a Brit to come to the USA and not impress us with his/her warmth, charm, styles and sophistication — but sadly now there is an exception.
Unfunny, failed-in-the-USA, comic and androgen-impaired, Ricky Gervais just can't keep his ill-formed and transsexual mouth shut, and with Easter approaching, the world's only unfunny British comic had to get in his digs against Christianity and religion in general.  He has learned the important lesson that mocking Christianity and boasting about Atheism is the best way to get attention in the USA.  It would be easier, however, for him to get attention if he pulled down his pants and showed his anatomically altered and/or failed genitalia.  If he ain't a female to male transsexual nobody is. 
Anyway, Miss Gervais had to issue her  "Easter Message"  — here's a part of the unfunny rant.  Note that she doesn't mention Islam — unfunny, transsexual atheists are often cowardly like that.   The rest is a mockery of the the basic tenet's of Christianity and Judaism.   Personally I don't care what god she mocks, but the fact that she is so desperate for attention makes me sick.  She can't face the fact that he is not cutting it in a country where we love our British cousins –don't you know?
GERVAIS  – "To the Christians' God by the way, it's just as bad to believe in the wrong God as no God at all. The idea of other Gods is of course ridiculous to Christians. Supernatural poppycock. As if there was ever a Zeus; stupid, ancient, unenlightened superstition. And even if there are other Gods (which of course there aren't) then the Christians' God is the best. Hardest, smartest… just better. He would laugh at Zeus and call him a Greek bender. (I doubt that God is racist and homophobic but the Bible isn't clear. Some bits go on about love and equality and others say you shouldn't trust certain types and that laying down with a man as you would with a woman is punishable by death and is a bit sick and evil.)"
Of course all of this is totally unnecessary and undignified but she (Gervais) has to do something to try to boost her failing celebrity in the USA.  She thought he was going to be a big hit but instead she's just a fucking lady-looking jerk-off. 
Here's the thing Miss Gervais, if you don't believe in God that's fine, but since there is no God, that means there is also nothing to talk about.  No god = no subject and you can't have a topic without a subject.  Let's talk about your ambiguous sex organs and your testicles that were lost in gestation.    In England this whole thing would be ignored as would Gervais, but he knows that in the USA he will anger people and get some publicity.