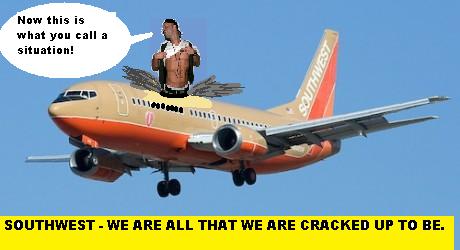 They say that you get what you pay for and in the case of Southwest Airlines, nothing could be further from the truth. 
The airline that promises low fares and hundreds of routes,  but only delivers late flights, overbooked cancellations and cheesy flight attendants, has now brought you the newest thing in flying — convertible airplanes.   That's right, the top comes off when you have the urge to feel the 500 mph breeze and the -20 degree wind through your hair.
"The planes are cracking like eggs," said an airline enthusiast who studies air mishaps.  "Southwest only uses Boeing 737 aircraft — a thing that they say keeps costs down because with only one type of aircraft you only need one type of mechanic, one type of crew, one type of pilot — in other words — everybody who works for Southwest knows what they have to know about a 737.  The trouble is that nobody knows how to keep them from cracking apart.  Yesterday a part of the roof flew off one of the jets and now cracks are being found in others.  Mike The Situation found this out this week but he wasn't bothered by it at all.
On his trip on Southwest from Los Angeles to Las Vegas, Jersey Shore star, Mike The Situation Sorrentino had the roof of the plane come out right from over his head, but rather than panic, Mike stood up and stuck his head out like it was a moon-roof on a Caddy and he was cruising down Ocean Avenue in Seaside Heights.  The 400 mph rush of wind did not mess his hair because the product he uses is designed to hold hair in winds up to 2,000 mph.  Mike designed this product himself and plans to start demonstarting it when he spacewalks without a helmet on experimental NASA space flights.
So the next time the queenie guy at the ticket counter tries to get sassy with you, you tell that little ol' girl that she better get her shit outt yer face because you ain't gettin' up in no airplane that be crackin up in the sky mutha fukah!
"We don't know why these sons of bitches are breaking apart," said steward Vaughan Hanlahan-Stacy from his apartment in Key West, Florida USA.  "I mean, if I'm going to get sucked out of anything, it's not going to be an airplane that's for sure um hmmm.  "I spent so much time on my knees that I can catch a fastball in a hurricane, but when they told me there was a lot of sucking on Southwest, this is not what I signed on for."