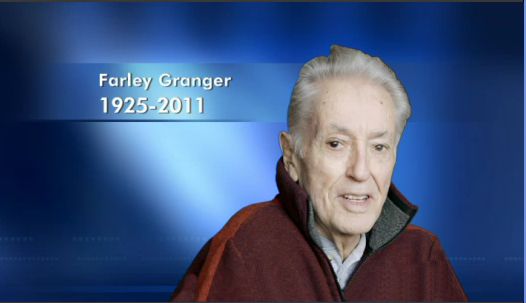 They say that celebrity deaths come in threes and the recent deaths of Liz Taylor and Geraldine Ferraro had Zsa Zsa Gabor Holding onto her good leg, but at the last moment zsa zsa was spared when actor Farley Granger died yesterday.
Farley Granger – who played a tennis pro embroiled in murder in "Strangers on a Train" and later wrote a candid memoir about his bisexual love affairs, has died at age 85.  Oddly,  even though he was gay (he says bisexual)  he did not live in Long Valley, New Jersey USA — the bisexual capital of the world.
Granger died Sunday of natural causes at his home on W. 72nd St., according to a spokeswoman for the city medical examiner.
In his frank 2007 memoir, "Include Me Out," co-authored with his longtime partner Robert Calhoun, Granger named names of his famous lovers, who he said included actresses Ava Gardner and Shelley Winters as well as conductor Leonard Bernstein – for two nights – and writer Arthur Laurents.  He lied about Ava Gardener and Shelley Winters because he was a total gay and he had to say that to make it look like he was a delicate artist. 
"He was a very handsome and beloved film star who always did exactly what he wanted to do, which was a little bit of everything," Calhoun's sister Linda Pleven told the Daily News.  "He was mostly a submissive bottom who liked oils and lotions."
Granger was signed to a movie contract when he was still in high school when he was found giving head to the football team behind the scoreboard.  This is why Alfted Hitchcock liked him so much — he had brass balls.
His most famous roles were in the Alfred Hitchcock films "Rope" and "Strangers on a Train." He appeared in many Broadway and TV roles, guest-starring on "As the World Turns" and "The Love Boat."
Anyway, Zsa Zsa was not number three but with any luck she will kick off the next string of three — good luck ZSa Zsa!!!!!