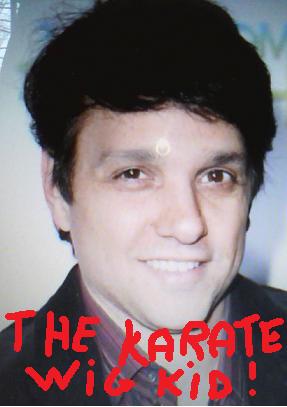 Earlier today, TheDamienZone reported that there was something not right with Ralph Macchio's hair on Dancing With The Stars but now, after close examination we have proven that Ralph was wearing a really cheap hairpiece — a wig.  It looks really bad because Ralph does not have thick eyebrows that would support the look of this much hair on his head.  
Ralph was most assuredly wearing a wig when he danced last night — and next week that wig will look better because makeup and hair people will tell him — if it looks the same, look for it to fly off because rumor has it that it almost did last night!
The Karate Wig Kid!  This photo is not retouched or messed with except for the stupid red letters.  This is how bad his wig looked last might on Dancing With The Stars.