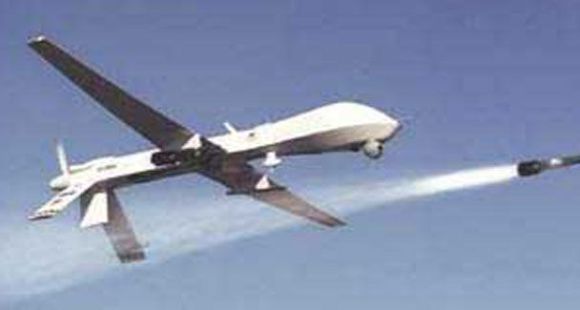 Pakistan's army chief (a liar) strongly condemned a U.S. drone attack that killed more than three dozen people (terrorists) Thursday, saying the missiles struck a peaceful meeting of tribal elders near the Afghan border. <—It struck a bunch of old guys who also happened to be elder terrorists.
The accusation by Gen. Ashfaq Parvez Kayani — which was denied by a U.S. official — adds tension to a relationship already strained by the shooting deaths of two Pakistanis by a CIA contractor who was freed Wednesday following a contentious deal to pay millions in "blood money" to the men's families.  The CIA contractor shot these people in self-defense but they held him up to get money and pretended that they cared about the dead murderers.  Then they went out and bought a 100 inch plasma TV and watched a bunch of Steve Seagal movies.
These conflicts make it that much harder for the U.S. to achieve its main goal in Pakistan: convincing the government to target Taliban militants on its territory. They regularly stage cross-border attacks against foreign troops in Afghanistan.  Pakistan pretends that it is an ally to the western world and cheifly to the USA, but the truth is that forces within Pakistan work feverishly trying to figure out a way to kill westerners — especially Americans and Jews.
"It is highly regrettable that a jirga (meeting) of peaceful citizens including elders of the area was carelessly and callously targeted with complete disregard to human life," said Kayani in a written statement. "In complete violation of human rights, such acts of violence take us away from our objective of elimination of terrorism." <—Total bullshit.  Might be the biggest lie since Richard Nixon said, "I am not a crook/"
Kayani's condemnation conflicted with statements provided by Pakistani intelligence officials throughout the day saying the 38 people killed and seven wounded in the attack were militants meeting to discuss sending additional fighters into Afghanistan.  Pakistani Intelligence — the actual friend to the west — knows that they will cease to exist under a militant Islamic regime, and if they say that the people killed were terrorists — THEY WERE TERRORISTS!
The officials said the militants were allied with Hafiz Gul Bahadur, a powerful Pakistani Taliban leader in the area, and even gave the name of a senior militant, Sharabat Khan, who was reportedly killed in the attack.  This was a great drone score and if this were a boqling match, that bomb just bowled a 300.
A U.S. official familiar with the details of the strike also denied innocent people were targeted.
"There's every indication that this was a group of terrorists, not a charity car wash in the Pakistani hinterlands," said the official, who spoke on condition of anonymity because the information was classified.
The compound was targeted by two pairs of missiles fired three minutes apart.