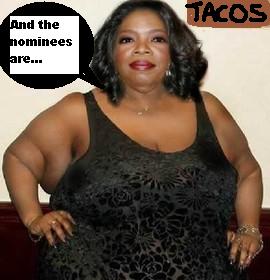 Oprah appeared on the Academy Awards show last night and she looked fatter than ever.  Her eyes looked glazed over and she looked high or drunk.  We are not saying she was high or drunk but she looked it — and we are saying that she looked like a fucking building.
"When she first came out on the stage I thought somebody was rolling in a prop for a building like the United Nations or Chrysler Building,"  said a source close to the Osacr broadcast.
"Her black, upper-buffetted dress looked like scaffolding to hold up her massive fat breasts and her body looked huge.  If you propped her up on a street corner in New York,  a doorman would have tried to open her zipper and let people in.   In that outfit she should have had an address and zip code.
"And it wasn't until she stood next to normal sized people that you could see how huge she really was — she looked like a mastadon or a mammoth — and that dress was percolating like the La Brea Tar Pits."
Oprah — stop eating!  You made millions by starting out your career telling women how to lose weight and now look at you.  You are a fat monstrosity!  You are a fraud to all the people who follow your stupid show — fucking idiot!