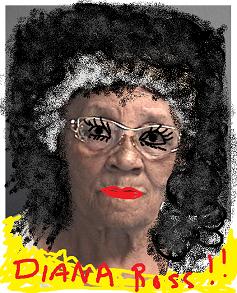 Accompanied by her nurses who helped her with a walker and portable oxygen, a very old but slick Diana Ross appeared on Oprah and was filmed through very foggy lenses.  She peed her dress once and shit her diaper but overall the whole thing came off well for the diva who is moving in on the territory of worlds oldest diva.  While she pooped her diaper she sang, "Poops coming out!  I want the world to know, gonna let it show!"
"Her eyes looked especially buggy and there were rumors that Michael Jackson's grave had been disturbed," said a source close to the Oprah parking lot booth.
"I thought it was Michael Jackson being led in to the studio because it sure looked like him.  When they took her out of the car there was a trail of mud and grass.
Diana did a song and then had to be medi-vac'd to a local trauma center.
Diana Ross recently celebrated her 80th birthday with family and friends and when they wouldn't let her out of the home to do Oprah she started shouting, "Set me free why don't ya, babe."    Her Afri-Norwegian kids were  there to cheer her on.
Ross, whose career spans more than seven decades, made her entrance singing her hit "I'm Coming Out" in a Bob Mackie gown and ostrich feather boa. Oprah also joined the old lady for a duet of "Ain't No Mountain High Enough even though now a flight of stairs is more than high enough."
"I have to really keep myself from going into the ugly cry," Oprah said while interviewing Ross. "Because of how much this legend, this woman means to me and my life… I'm going to try to keep it together."  Of course Oprah was being a phony as usual but that's Oprah — she will be a phony until she draws her last breath.
Diana's children, Rhonda Ross Kendrick, "Girlfriends" actress Tracee Ellis Ross, Chudney Ross, Ross Arne Naess and Evan Ross (who is currently on "90210?) joined her on-stage. Her first grandson, Raif Henok Emmanuel Kendrick who was born to Rhonda and Rhonda's husband, jazz musician Rodney Kendrick in August 2009 also made an appearance.
Ross disproved her diva reputation, telling Oprah that she never demands that anyone call her "Miss Ross," but believes that when one has earned respect, it is expected in polite company. Ross's children proved further that their mother was down-to-earth despite keeping company with the likes of Cher and Michael Jackson.  She doesn't really think she deserves to be called Miss Ross — she's just a jerk-off.
Oprah also might be ready to admit to lesbianism because she is surrounding herself with all her support group.  Oprah will be 70 in June so it's about time for her to admit that she might be gay.