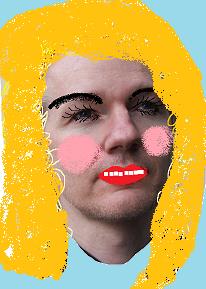 A British judge ruled today that Julian Assange must be extradited to Sweden to face sex crime allegations.  This is the death knell for this crazy demi drag queen because he has always strenuously denied the accusations.
Judge Howard Riddle decided that the allegations of rape and sexual molestation by two Swedish women are extraditable offenses and that a Swedish warrant was correctly issued.
<——Julian's High School Graduation Photo.
"Clear and specific, serious allegations have been made against Mr. Assange. Serious attempts have been made by prosecutors to interview him. He has not been interviewed," Riddle said while reading his decision at Belmarsh Magistrates Court in South London.
Assange has seven days to appeal the decision, a process that could mean the case could drag on until the summer. His lawyers said they will definitely appeal.
Assange's legal team has argued that if the 39-year-old Australian is extradited to Sweden, he could in turn be extradited to the U.S., where federal officials reportedly want to prosecute him under the Espionage Act because of WikiLeaks' release of thousands of classified documents and diplomatic cables.
Once the USA gets their hands on Assange, he is toast.  It's all over for him,  He will not see the light of day for 40 years — he's getting what he deserves.