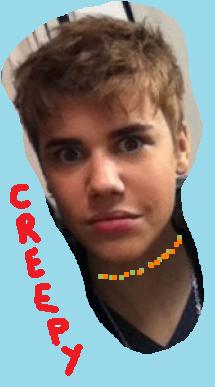 Justin Bieber has a new haircut — and it's ugly.  The mop-headed Baby Gaga has gone from early 1970s Popsicle throwback to every haircut you see in the young-hip-edgy-cool but outta style- world. 
His career is moving towards Overs-ville because the new and uninspired hair-doo reveals that Justin is actually a little beat in the face — maybe even a lot beat in the face.  He looks queenie —  like he should be in a high school drama club or something.
"I am so sad that he went to the messy "I could be in a vampire kinda show" look,"  said singer and hair inspiration guru Bobby Goldsboro. 
"He had a whole thing going because of the hair.  Now that he's taken the hair up and off his face you can kinda see that he's a little creepy looking. 
"His head is shaped like an alien head — and that's saying a lot coming from a guy as homely as I am.  He could have been a style setter if he had gone retro-punk or something but instead he opted to look like everybody else.   That's just a dagburn shame.  My 9-year-old granddaughter saw him on TV and he frightened her. "
Bieber was not available for comment but former teen idol Donny Osmond is somewhere shaking his head because he knew, even way back before computers, that the moppy hair drew attention away from his chainsaw teeth.   The hair was keeping screaming tweens from realizing that their idol was actually kinda ugly and creepy looking. 
It also looks like the Beeb doesn't have as much hair this year as he did last year —hmmm — is he another Joey Lawrence and balding young?  He's been drawing a lot of attention to his hair lately.  You know what a psychiatrist would tell you about that, don't you?   Bieber is also trying to make his eyes look bigger and that looks very swishy.  Say it ain't so.
"The new haircut accentuates the odd facial deformities of this Canadian fellow," said Dr. Fritz Gurrfroch of the Gurrfroch Insitute for Teen Development and Facial Oddities in Zurich, Switzerland.
"You can see that the center of the face around the nose is pushed in and gives the appearance of dwarfism.  There is also an odd outward thrust of the lips above the pointy jaw that gives the entire lower face a show-tune or soon-to-be show tune look.  I am afraid that Master Bieber will continue to get uglier as time goes on.  Even in the world of medicine we must accept that some people are cute when they are young and they grow up to be homely.  The same thing happens to puppies and kittens.  Have you ever seen an ugly puppy?  Of course not.
"There is also a Canadian thing happening here.  Many young Canadians singers grow up to be very ugly like Celine Dion.  There is something wrong with the climate or something but we are trying to figure it out because the average Canadian regular person is usually very attractive, but as soon as they get some kind of talent, they become ugly."
TheDamienZone is not alone — read this. http://www.zeitgeistyreport.com/breaking-news/2011/02/21/chopped-justin-bieber-gets-a-much-shorter-hairstyle/comment-page-1/#comment-122233