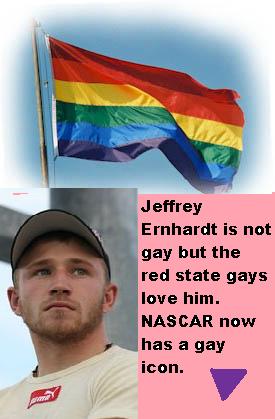 "Isn't he dreamy and adorable and do-able," said Connor Crawley from his trailer/beauty parlour  in Munistowne, Kentucky.  "He is the hottest NASCAR driver to come around in like forever, honey.  I look at him and wish I knew how to change my oil or something."
Seems that the boyish face of Jefferey Earnhardt is lighting up the flames of gay desire for flyover gays from West Virginia all the way until you get on over to them there weirdos in California.  The 22-year-old is the grandson of the late NASCAR great Dale Earnhardt and the legacy will continue, but this time with a heavy gay following because this kid is nice looking as far as NASCAR drivers go.
"He looks like a hillbilly Prince Harry,"  sqealed Tunney McBride, Munistowne's youngest and most highly regarded gay student at Munistowne Junior College. 
"When I get my master's degree in design that I know I am gonna git my butt in New York cause I am classified as a disadvantaged white on my financial aid form, the first thing I'm gonna design will be the interior of Jeffrey's beautiful house in North Carolina.  I'm gonna make him love me even if I have to shove a can of Valvoline up my who-who and then ask him for a little help with a mag-lite."
It's nice that Red State gays have their new boy toy because for years they have been forced to idolize the gays that are foisted on them by Blue State Liberals, and sometimes a hometown gay needs another hometowner to fulfill his lusty dreams.  It's hard to picture these poor young gay guys from bumfuck Indiana trying to dream of ever getting a date with one of those vampire or werewolf guys that are so East Coast chic.
"Those people in New York show you these guys that are all weird looking, ya know," said  Carson Verbeel of Linseed, Oklahoma. 
"I mean they got these here guys that are all with their high cheekbones and big puffy lips.  I don't play that, okay?  I like my guys to look like they just came out of Denny's on Mother's Day.  Kinda dressed nice and all family oriented and knowing how to enjoy a good burger.  I will follow Jeffrey Ernhardt to the ends of the earth.  I will lie under his tires and tell him I love him.  I will send him so many Valentine's day cards that maybe someday he'll think that an Oklahoma boy from Linseed might be just the thing he's always wanted."
Awwwww!
So NASCAR has a gay icon and isn't it fabulous?