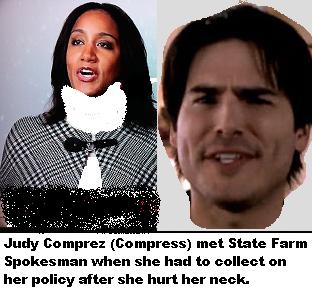 You see him about 100 times a day and you're sick of the way he strains his face to INSURE that his dimples are prominently featured.    And if you listen hard enough you can hear that he has a slight trace of an accent.   He looks like he might be a little chubby and sometimes his head looks big and wide — other times he looks like a fashion model — you never know what you will get from the State Farm guy from one commercial to the next.
Is he Mexican?  Is he Cuban?  Is he from South America or Spain?  Nope — he is Puerto Rican and he's from New Jersey <—–Wow, what an oddity. 
His name is EDDIE (EDUARDO) MATOS  and he left New Jersey in 1990 after high school graduation seeking fame and fortune in Hollywood  — and he kind of achieved it.  He's been in a lot of soap operas and he played Ricky Garza on Port Charles.
According to people on his block in Los Angeles,  he is  "like a good neighbor."  And all you ladies out there who might want to have a crack at him are in for a huge let-down.  Seems that Eddie is already engaged to Vonage TV spokesperson Judy Comprez or Judy Compress — the woman who talks about the big turkey and the big Pernee or something in the Vonage commercials.
"I love Eddie because he knows how to keep the phone bill down," said Judy Comprez or Judy Compress.  "He knows all about unleemeeted cahlling and all the features you get on Vonage.  He also does not mind that I wear ugly capes and giant black leather boots.  He thinks I am sexy and he understands what I am talking about when I talk about the big turkey and the big _____ on the Vonage commercials."
Don't hate on Eddie Matos, folks.  He is just an insurance salesman like Ned Reyerson in the movie Groundhog Day — only he is Spanish and he has gay dimples and he doesn't tuck in his shirt because he might be a little fat now that he is almost 40 years old.  God bless him, he looks good for forty but his hair looks greasy and that annoys TheDamienZone.