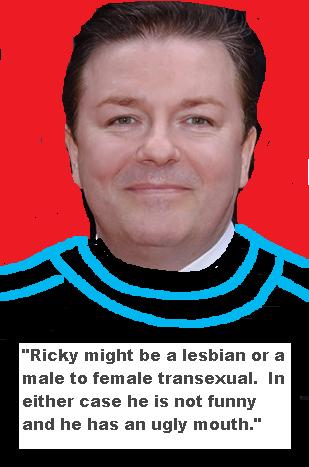 How did this guy get to be famous ?  How can a British comic not be funny? 
Why does he look like a male to female transsexual? 
These are questions that people were asking themselves after he hosted the Golden Globes.
He totally lost his audience with his mean spirited and unfunny jabs at Angelina Jolie, Tom Cruise, John Travolta, Jim Carey, Ewan McGregor etc.
His worst mistake was making jokes about Philip Burke — the head of the Hollywood Foreign Press Organization.   That was a huge mistake.
The Hollywood Foreign Press is angry at him and they will not ask him to come back to host the Golden Globes," a source close to the awards told TheDamienZone.com. 
"When Robert Downey Jr goes onstage and alludes to your unfunny nastiness, you know you're pretty much finished because Downey can roll with the punches as well as anyone."
Another thing that bugs the Americans about Gervais is that he does not have the class and wry wit they have come to expect from their British cousins.
"He doesn't have the 'it' factor," said a nominee who spoke on conditions of anonymity.  He has an androgynous look and every time I looked at him he reminded me of a female to male transsexual.  Hey, there is nothing wrong with being a female to male transsexual so maybe I ought to say that he looks like he has some kind of hormonal imbalance.  He looks like he needs to see an endocrinologist as soon as possible."
Ricky Gervais sure does have some kind of androgynous look — he's somewhere between Rosie O'Donnell and Benny Hill — he doesn't look like an actual man.  Even the most feminine men look like men — this guy looks like he should have starred in the PAT movie. When he was born, the stork on his lawn said:  " Congratulations,  It's A Baby."
Ricky Gervais had his chance and he blew it but as this writer knows, Ricky is thin-skinned and this unpleasant notoriety will drive him nuts.  But — he is not funny and he proved it at a Golden venue.