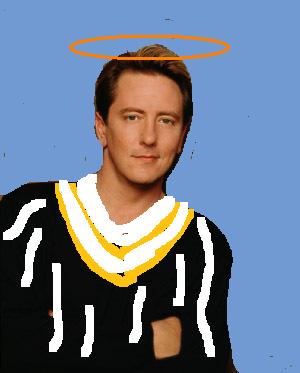 Touched by an Angel star John Dye has died at 47.  It seems that John was touched by an Angel according to the coroner and Roma Downey is beingheld by God for questioning.  According to sources the angel stars could touch other people but they could not touch each other. 
Dye, who played the angel of death on the popular CBS series, had been found dead in his San Francisco home Monday. While authorities have yet to declare a cause of death, the Mississippi native's family says Dye died after an apparent heart failure. but an angel came and touched him first.  It was first believed that Dye was killed when he got tangled in Della Reese's dreadlocks, but that was just a rumor.
PHOTOS: Celebs We Lost In 2010
RadarOnline.com has learned that an autopsy was performed on Dye's body Tuesday, but that the case is being deferred pending results of toxicology tests, which are expected back in about
three to four weeks unless the angel refuses to let that information public now that John is in another place — a better place. 
In addition to his work in nine years on the CBS series, Dye had also been seen on Murder, She Wrote as well as shows such as Tour of Duty, Jack's Place and Hotel Malibu.