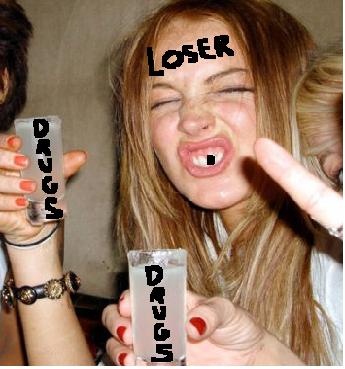 The ultra fucked-up trainwreck – shoulda never got another shot — Long Island native Lindsay Lohan is under investigation for an allegation of battery involving a worker at the Betty Ford Clinic.
It seems now, according to a Palm Desert Police , Lohan may continue to be investigated for multiple probation violations – perhaps all surrounding (or causing) the alleged battery incident.
"The investigation and facts in evidence has revealed other possible violations by Ms. Lohan relating to certain conditions of her probation terms."
The probation violations under investigation have not been named. But Lindsay Lohan has had substance abuse problems for a very long time, and those problems are what landed her in hot water to begin with. The 24 year old actress has already served jail time three times in Lynwood, CA – all for drug arrests and probation violations.
Lindsay is a loser — she can't be helped — put her in jail or else give her freedom and unlimited access to drugs until she kills herself — nobody gives a shit anymore.  Fuck  her — moron!  TheDamienZone used to stick up for this loser — no mo'.