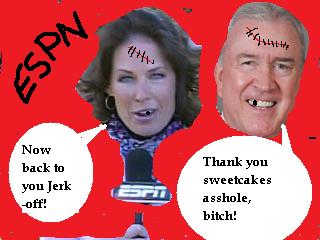 Longtime untalented and annoying ESPN announcer Ron Franklin was pulled from his play-by-play duties before Saturday's broadcast of the Fiesta Bowl by network execs after a reported dispute with a female sideline reporter that she deserved even though Franklin is a fucking douche bag.
 
According to Sports by Brooks, Franklin called ESPN-TV reporter Jeanne Edwards "sweetcakes" when she attempted to join a conversation with ESPN announcers Ed Cunningham and Rod Gilmore during a production meeting before Friday's broadcast of the Chick-fil-A Bowl.  Jeanne Edwards likes to hang around football because it makes her look less manly was annoyed.
 When she told Franklin not talk to her like that, Franklin reportedly said, "okay then, a-hole."   Boy did she get pissed off. 
Edwards then reported Franklin's comments to ESPN management because she is a cry-baby little girl after all.
After confirming the incident with Cunningham, the network tried to pull Franklin off Friday's broadcast but were unable to find a replacement due to the late notice.
Why can't you call somebody an asshole — especially when both the sayer and the sayee are both assholes?