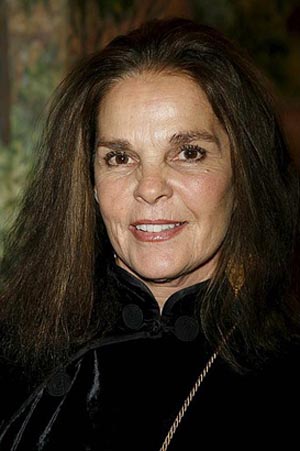 There is nothing to know about Ali MacGraw except that she played in LOVE STORY.  She now looks old and has cigarette wrinkles on her lips.  that is all — but if you are a fan…..
MacGraw has stated that she had an illegal abortion when she was in her early 20s.[17] From 1961 to 1962, she was married to banker Robin Hoen. On October 24, 1969, MacGraw married film producer Robert Evans, becoming the third of his seven wives. Their son, Josh Evans, was born on January 16, 1971. The couple divorced in 1972 after she became involved with Steve McQueen on the set of The Getaway. Despite being divorced from him, she and Evans are on good terms and have since made several public appearances together. MacGraw married McQueen on July 13, 1973. McQueen filed for divorce in 1978 after he became involved with Barbara Minty. MacGraw has not remarried.
MacGraw is a dedictaed Animal Rights activist who works tirelessly for the welfare of stray and neglected animals.  Many celebrities are into this cause but MacGraw tends to be low key while at the same time being perhaps the most deidcated animal rights celebrity in the USA.