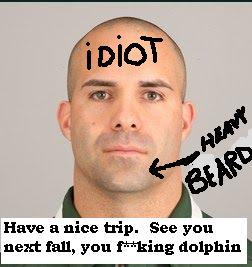 New York Jets associate coach Sal Alosi, the guy with the heavy beard,  was so overwhelmed with guilt over tripping Dolphins player Nolan Carroll, that he went back to the locker room and turned his foot inward and tripped himself.  He was killed instantly. 
"He couldn't believe that he did that and he was overcome with remorse," said a Jets player who spoke on conditions of anonymity.  "I was heading for the locker room when I heard a squeak and then a thud.  It was awful."
The unnamed player  ran into the locker room but it was too late.  Alosi had tripped himself to death and efforts to revive him were unsuccessful.  He was taken to the county morgue pending further investigation.
"I wasn't going to fire him, " said the Jets owner Woody Johnson, "He shouldn't have done this.  A lot of people like him.  I swear I wasn't going to fire him but I was going to have kneecaps broken because he was supposed to shoot anybody who might cause us to lose the game.
Alosi left behind a note:   "I made a mistake that showed a total lapse in judgment," Alosi said in the statement. "My conduct was inexcusable and unsportsmanlike and does not reflect what this organization stands for."
Phone calls to the Alosi home went unanswered.