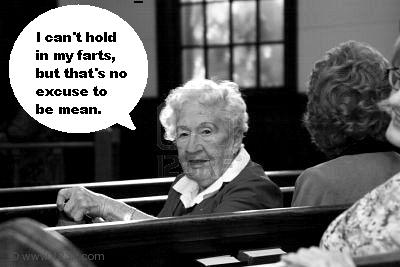 "All I know was that I was asked to leave,"  said Bessy Denker 91, the eldest member of the Long Valley, New Jersey Anglican Church of the Conception.  
 "I have a medical problem and I plan to hire a lawyer and wipe this church off the map financially if they keep treating me like a leper.  I have a lot of gas — is that a crime? "
It seems that the very churchy crowd at Bessy's church were not happy with her inability to hold in her flatulence during services.   Despite being asked many times to attend services by standing in the back hall, Bessy has defied the other members of the congregation and sits wherever she pleases.
"She's a nice religious woman and very generous to the church," said Vicar John Penmark.  "She is a great example for all Christians, but when it comes to turning the other cheek, it's only to let out some gas from a different angle.  She is totally unapologetic about her gas and some people get sick.  Even from my pulpit I catch a whiff every now and then — and sometimes you can hear the popping sound her gas makes as the pressure of her butt pushing against the wood of the pew and the force of the gas combine to create sound waves.  I 'm also a science teacher so I understand the physics behind it."
"Her doctor said that she has a bacterial problem in her intestines and the gas is incurable, but she is making the other parishioners sick.  On the other hand there are a few who like the smell and try to sit near her.   Of course we try to discourage that kind of behavior because to enjoy fart smell is not normal unless of course it's your own fart smell.  That's totally normal."
Denker has hired Denville attorney, Jayson Seaboard, to represent her.   While he has handled similar cases for people who have been barred from their workplace because of intestinal gas, this is his first time representing against a church.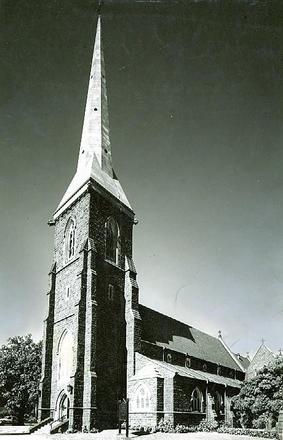 "Passing gas or farting at work has always been easily  remedied," said Seaboard from the crowded waiting room of his office where all the windows were wide open.  "If a person has gas problems in the workplace, it's often just a matter of relocating that person to a remote office or sometimes letting them work from home. 
"Being barred from church, however, is outrageous," continued Seaboard.  "God created the farts and the food that makes them. I am a firm believer in Deuteronomy Chapter 4 Vers 12.  'And God said unto the fishermen, wherever you may be, let your air go free' — Those are words that are close to my heart.   I am not going to stand by and watch my gaseous client getting pushed around by a bunch of stuffy Protestants."
TheDamienZone thought that he said "Dooty-ronomy" and we almost laughed, but we managed to get a counterpoint from the Vicar before laughing out loud at our own childish uncouthness.
"I asked her politely that perhaps she could change her diet," said Vicar Penmark.  "But she doesn't care.  She munches garlic and broccoli all day long and she's been on this cabbage diet for years.  If she just ate normal foods she would not pass so much wind.  I personally feel that she is making up this medical excuse just so she can fart as she pleases."
Other people in the congregation had similar sentiments.
"She smells like cigarettes and farts and Fabreeze," said Emily Vaughan, 71, a lifelong resident of Long Valley.  "Sometimes you get through a whole service and you smell nothing, but when she stands to offer you the sign of peace, a smell wafts up that could choke a horse.  It's as if the gas is stored beneath her dress and as soon as she stand it rises and envelopes you.  I think she's got to go. I don't care if she's ninety-one years old."
Seaboard has scheduled a hearing before the county judge on November 20, and up until then, Bessy Denker must be allowed to attend the church that is trying to give her the boot.
"We call her pew, the P.U. pew," said Mona Breedlove, 59, of Long Valley.  "I sit as far away as I can but sometimes during the sermon I can not only hear the faint tooting sound, I can smell it too.  Of course it takes the odor about a minute or two to get to me, but when it does — it stinks!