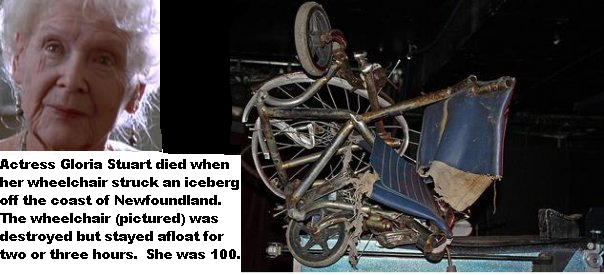 Gloria Stuart, the 1930s Hollywood leading lady who years later became the oldest Academy Award acting nominee for her role as the spunky survivor in 'Titanic,' died today in the North Atlantic when her wheelchair struck an iceberg.  She was 100.
"Details are sketchy right now," said Armenian businessman Jack Carpathian, a spokesman for Hoveround wheelchairs. 
"We know that Mrs. Stuart had taken her wheelchair out for a spin off the coast of Newfoundland and radioed in at 4 am that she had struck an iceberg.   I got there as fast as I could but by then she had fallen into the icy Atlantic.
Mrs. Stuart is survived by her healtcare worker, Bessie Dominique of Sans Iris, Haiti.  She was pre-deceased by her long time companion, Jack (nee Dicaprio) Dawson and her mother Ruth Dewith Bukater (aka actress Frances Fisher) — oddly, Miss Stuart is survived by herself, Kate Winslet.
Nude sketches done by Leonardo DiCaprio are being sold on the internet and are selling for big bucks.  Director James Cameron is planning to do a film based on her life in which Miss Stuart will be played by herself (Kate Winslet).
"I just hope they don't bury the wrong Rose," joked Cameron as he slipped into a deep sea submarine to start filming the wreckage of the wheelchair.   TheDamienZone hopes Cameron gets crushed by the weight of the deep sea pressure because he makes us sick.