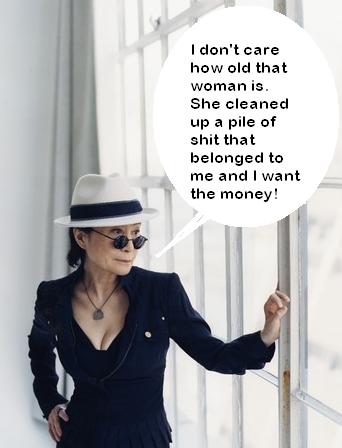 A toilet that belonged to late Beatle John Lennon fetched 9,500 pounds ($14,740) at auction on Saturday, around 10 times its estimate, the sale organizers said.  When informed of the high price, Yoko Ono was a bit put off. 
"If I had known that it would sell for so much money, I wouldn't have flushed the big pile of shit John did in it the day we sold it." said Yoko from her apartment in New York.
"On second thought, I was not a good housekeeper but we had a woman who came in twice a week and she probably flushed it.  I am going to track her down and sue her."
Lennon, who was murdered in New York in 1980, had the porcelain lavatory removed from Tittenhurst Park in Berkshire, southern England, where he lived from 1969 to 1971, and replaced with a new one. 
Contrary to Ono's take on the story, the truth is that she never bothered to even clean the toilet, let alone flush it.  The toilet was regularly cleaned by Minnie Lavalle, now 91, who finds herself being sued by Yoko Ono.
"I'm an old lady who cleaned a shitty toilet — it must be  forty bloody years on by now,  and today I had to hire the services of  a solicitor,"  said Lavalle from her room at the Canterbury Arms Retirement Home. 
 "That girl — the Chinese one —  was a lazy pig.   The husband was a nice enough bloke, but she didn't pick up a bleedin' dish rag.  Now the dirty slit wants to sue me. Well,  go ahead I say.  The government took everything I own because that's what they do when you go to a rest home.  I have a dresser and a clock so if she's hard-put for ready cash —  she can come and get that."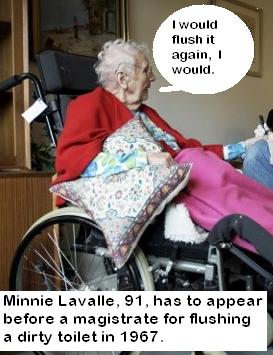 The builders who took away the white and blue lavatory were told to "put some flowers in it or something," according to the auction catalog. 
Builder John Hancock stored it in his shed for 40 years until he died recently and the lavatory was sent for sale, British media reports said.