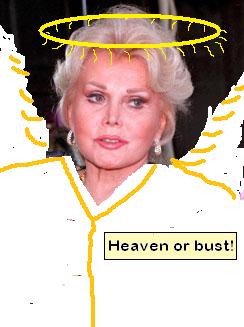 It is 5:32am in Los Angeles and Zsa Zsa, as we predicted at TheDamienZone.com, is ready to kick the bucket.   As I type this story she might be dead so when I finish I will put the exact time I finished.  I am predicting 11:26am Pacific Time.
She used to be the Queen Of Venus and now she's headed in that direction.  We always liked Ava Gabor better anyway — maybe it's Eva — not sure and don't care.
What you should care about is that  Zsa Zsa will be giving her first interview from the hereafter right here on TheDamienZone.com.  So within 24 hours of her demise she will be featured in an interview from the after-world because we have access to that shit hole.
Okay so it is now — 5:36am Pacific Time — I welcome all time predictors to comment — whoever wins gets to be in a cartoon movie.
UPDATE:  ZSA ZSA IS STILL ALIVE AS OF WEDNESDAY AND GOD IS PISSED OFF!