LINE UP WANNA-BE HIPPIES AND MISFITS WITH DISPOSABLE INCOME BECAUSE CHEVY HAS THE CAR FOR YOU!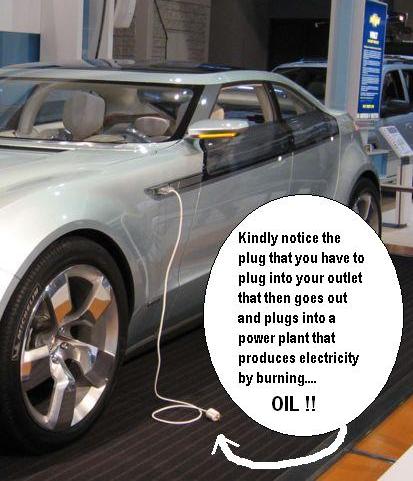 You still need to burn fossil fuel to charge the stupid thing,  but they forget to tell you that in the teaser advertisements.  
New batteries will only last 8 years and will cost  $10,000 to replace — and you worry now about what it will cost if your transmission goes?  
Anyone who has ever bought a new car knows how fast 8 years go by.  The batteries will only take you 40 miles before a teeny weeny gas engine kicks in and lets you putter into Aunt Minnie's driveway just in time for Thanksgiving dinner — unless there was traffic — then you are stuck and Aunt Minnie will have to wait until next year.  How long does turkey keep anyway?
 Oh, and I almost forgot,  the car is poisonous.  So yeah, the batteries are full of poisonous chemicals and heavy metals too.  Where does that shit go when the time comes to dispose of the dead batteries?  Where does it all go if you happen to smash the car to bits and the contents of the battery get splattered all over a schoolyard or trickle into the stream where your car flipped over?  What will happen to the gas guzzling evil people you hit if they are splattered with battery acid?
Will the poor morgue attendant who has to carry your dead, energy concious ass to the slab get sick and die, or will all that shit get into his genes and give his yet to be born kids a nice case of leukemia? 
These are things to think about when you want to think about being a fuel efficient misfit.
Chevrolet is putting out a  great looking hoax, but go ahead and buy one and stroke yourself thinking that you're doing something good for the environment when in fact you are doing more damage than two ordinary cars can do in 40 years.
The Demien Zone says, "Burn the gas and oil and coal — burn it all up!"   Bwah hahahaha !
I don't care what the frig you do.  I'm not going to have any grandchildren and I don't give a shit about yours.