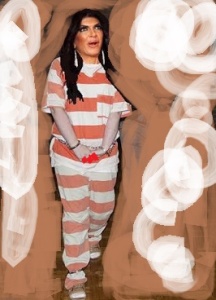 She's only been in the slammer for about one day and already Real Housewives of New Jersey star, Teresa Giudice is making outrageous demands on the prison administrators at the Federal Correctional Prison in Danbury, Connecticut.
Teresa's first demand resulted in a brief flare of temper from  Inmate Food Services Coordinator  Chenille-Teniqua Jamaal — a woman who has worked hard to get where she is, and is not about to tolerate the "diva" behavior from someone like Teresa.
"She came in here with her hair and the extensions all puffed up and what-not with them eyes of hers so damn low in her hairline like some little play monkey.  She has the nerve, you know what I'm sayin'?   She's a goddam convicted felon telling me what the f**k  I should be cooking in my facility.  Uh-huh, I'm not dealing with that s**t, no way Jose."
"She got up in my face and demanded that we serve Celentano brand cavetelli pasta with white sauce and Italian wedding soup and pasta fagioli at least once a week on our menu."
Chenille-Teniqua Jamaal continued:
"I told her straight up that this ain't no party.  This ain't no disco.  This ain't no foolin' around — and this certainly ain't no Italian restaurant or Italian wedding.    I'm like, 'do I look like I know what the hell Celentano cavetelli and pasta fagioli be,  and like don't you know that you be in a motherf***in' prison, girl?'  
"Something ain't screwed on in that bitch's head, you know what I'm saying?  We got something like a ape woman or whatever up in here now."
Chenille-Teniqua Jamaal is not the only staff member at the facility who has already waged war against Teresa.
Television producer and writer Dave Mattia, who has set up shop in the prison to film a feature documentary about Teresa's entire stay at the jail, has witnessed some really hard core diva performances already.
"We have cameras set up in her quarters that she can turn on and off as she pleases but she waltzes in and wants HER kind of lighting and HER kind of camera aperture.  She wouldn't know an aperture from the crack in her ass but with her it's all about control.  
"She complained about her bed and she demanded that one be shipped into her from Roma Furniture in Staten Island.  She wanted this really gaudy white laquer faux Florentine headboard and posts, but she can't have that because it's not in my budget or the prison's budget.
"The prison psychologists have already designed the rooms in an ergonomic way so as to subliminally induce a state of well-being for all the prisoners.   They offered her something similar from Bob's Discount Furniture, but Teresa said that she would puke out her cavetelli and white sauce before anyone puts discount furniture in her living quarters — and I say 'living quarters' to be nice, but let's face it, she's living in a cell for chrissakes and she's not going to get that cavetalli with white sauce either."
Stay tuned for more stories from our reporters who will check in on Teresa from time to time.  The Damien Zone is certain that the Real Housewife will have much more outrageous demands in the future.
http://thedamienzone.com/?p=8129
Above is a story we did about Teresa over a year ago where doctors pretty much predicted that her behavior was not in the normal range.