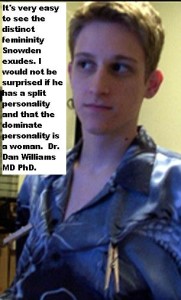 If they'd had video games and latops in the 1950s and early 1960s, Lee Harvey Oswald would have played them. He would have been a fixture on various message boards — perhaps even hailed as a champion. His social skills via Twitter or Facebook, however, would have been limited, and while he would have been known –perhaps mocked or admired — throughout his school and neighborhood, he wouldn't have been conventionally popular. He would have acquired the kind of notoriety that very few people get but so many deserve — the awkward fame of the American Misfit.  More Pics here — Direct Snowden Pics. 
It's very easy to compare Lee Harvey Oswald to his 21st century equivalent, Edward Snowden. All one needs to do is update the technology by fifty something years, take out two murders (one infamous)  and there you have it. The true misfit — made in the USA.  You have just enough of all the ingredients to create two from one.
Now, why would anyone compare Snowden to Oswald?  Again, you have all the ingredients and you have a guy who seems to have no real past to speak of.   His true sexuality is under scrutiny and it might be at the root of everything he has ever done or has aspired to do.
Where are the friends who knew him in school? Where are his buddies from camp or little league? Why are there so few pictures of him floating on the internet?  Until very recently, it seemed as though there was only one photograph of Snowden on the entire planet. A few more are popping up, but for the most part Snowden, a young man who lived his entire life on the internet, has gone 30 years leaving only a  few very faint non-electronic footprints.
Let's get down to brass tacks.  According to one psychiatrist, this whole "catch me if you can" routine is rooted in some kind of sexual denial.
Is Snowden a self-loathing homosexual or a complex heterosexual hybrid?  Is he a transsexual in denial?  Is he an impotent heterosexual with a hero complex like Oswald?  Is he all three or four or perhaps even five combinations therein?
Edward Snowden, in one rare internet blurb,  describes his own physique as "girlish" and frankly, his sexual interest in women has to come under question.  Oswald had the same basic feminine frame that was masked by a a few worked out biceps and a tight tshirt, but his true sexual identity has always come under question.  He tried to mold himself into a super-secret agent man because, in the minds of many psychologists, he was deluding himself from a truth that only he himself knew.  Oswald, like Snowden,  seemingly had no past or friends or buddies and he buried his sexual frustrations by marrying a Soviet citizen simply because she was convenient and she was a Soviet citizen.  She was never a wife — she was a symbol.   Sound familiar?
"There is a kind of feminine vulnerability that Snowden is either trying to put forward or unwittingly revealing," said Daniel Williams, MD PhD, a psychiatrist who is trying to put the pieces together for a book entitled: Edward Snowden: The Awkward Fame of The American Misfit"
"It's quite possible that the Edward Snowden we know now as a man in flight from prosecution, is a woman in the sense that he sees himself as a woman.  It's not so complex as it sounds.  We see a man named Edward Snowden, but Edward Snowden might see himself as a woman in a man's body and by being such he has created a sleek James Bond kind of super-ego image for himself.  It would be like a young girl who struggles with deep-rooted issues of a transgendered self.  Naturally such a person would venture towards masculine pursuits like sports and cars and motorcycles, but in Snowdens'a case, his self-professed geeky nerd complexity may see him acting out his feminine side in a high-tech masculine way.  In this case you can see how complex the entire issue can eventually become.
"It's not unusual for a young man with psycho-sexual developmental problems to create a 'Damsel in Distress' means of getting attention but still maintain that need with a masculine edge.  He may strive to be a feminine persona with the Superman-esque accoutrements of tangential masculinity. Again, I think one could easily compare Edward Snowden's quest in development into as much of a male as he can be, to the stereotype of the young lesbian who attaches herself to male heroics like baseball or hunting or other typically masculine diversions — the proverbial tomboy if you will — only in this case, Snowden has raised the stakes far too high and eventually all of his 'selves' will have to come to grips with reality. He could melt down or he could simply surrender."
Dr, Williams is trying to dissect the ascent of the young Snowden from his world of geeky androgyny to world menace and Enemy of the State. Is it a fantasy fulfilled or is Snowden the real thing — the American Misfit?
"Snowden could also be a hybrid of both a social misfit and a person suffering from a multiple personality disorder — in this case PMPD or Psycho-Sexually Multiple Personality Disorder,
"It's a real and ultimately debilitating illness as far as social interraction is concerned, and strange as it may seem, it does seem to affect more individuals with a highly tuned mathematical skill set which is probably the case with Snowden in that he has championship level gaming skills but very little if any social skills.
"He is an avid video gamer and a self-acclaimed computer genius. He's also impaired in the masculine sense but that's not for lack of trying.  In a sense, I see him as a man who sees himself as a woman trying to attract women with his intellect and feminine physique, but that intellect is very limited insofar as it doesn't venture very far beyond a computer screen set before him.  He may be suffering from gynecomastia be it self-induced or idiopathic or real or imagined.
"If you take into account the fact that Snowden wanted to be an 'army man' to save the people of Afghanistan from tyranny but failed, you are looking at what is most likely to be a recipe for the makings of a highly functional disambiguous misfit. 
"I use the term 'army man' in a childish way because that's most likely the way he saw it when he enlisted. It's now known that he could not cut it in basic training and had to bow out due to the fact that he broke both of his legs during a drill where even the frailest young men emerge unscathed. He is a truly delicate creature and there is a femininity about him that cannot be denied. If he were to come before me and say that he was a young woman taking male hormones, I wouldn't have any reason to disbelieve him unless I had him fully examined."
Dr. Williams' theory overall is that Snowden is suffering from a misfit syndrome that manifests in many ways, and by being so diverse at being inept yet very adroit — or a jack of all trades but master of none — Snowden is an anomaly and perhaps a misfit of the highest order.
"The photo's from social media where Snowden clamps clothes pins on his nipples in a suggestive manner and then talks about his girlish figure, are ample testament to at the very least, the beginnings of a multiple personality disorder but not so much a single-minded homosexual one.  One must understand that the female side of Snowden might Be homosexual in that as a female he is attracted to women, and in Snowden's case, the female side seems to have the upper hand at the present time.  His male persona may have taken a back seat for the purposes of this now infamous escapade as a top secret whistle-blower.
"Snowden might be very adroit at changing personalities and sexualities so as to accommodate certain situations much like the fictional character of Leonard Zelig which was created by American filmmaker Woody Allen.  He may also have created a feminine version or versions of himself to cover a self-hatred of his sexual frustrations.
"Is the masculine side of Snowden a homosexual?  It's hard to say because it is my opinion that his masculine side is heavily buried at the current time.  People with complex multiple personality disorders can and often do have alternate sexualties. It's obvious that the Snowden most people knew — however few there may be — saw him as a man who loved women, but were they seeing the masculine brain or the feminine brain? 
"It's my best guess at the this time to assume that Snowden sees himself as a woman — or at least the female personality inside of him is in control and playing what it believes to be the ultimate masculine role of an internationally  hunted spy like James Bond.  That female side is homosexual because it seeks sexual attention from other women.  The masculine mind of Snowden, however, is meek and feeble and buried for reasons unknown, but it is safe to assume that his masculine mind is either decidely homosexual or asexual and were it to emerge now, he would be a very confused man-child.  He probably would turn himself in to the authorities with very little knowledge of what had happened along the way."
TO BE CONTINUED:
EDITOR'S NOTE:  it is very simple to comment on The Damien Zone.  Emails are rarely cross-checked and we accept all comments that pass through the spam filter.  We do not, however, tolerate serious threats of violence against any of our writers.   Kindly note that comments might appear in minutes or in hours, but they will appear.  Keep checking back to see — and also note that editor in chief  Damien LeGallienne will respond.   Also we have a comment moderator — "D.D.M" or   D-amien D-irect M-ail.  DDM@thedamienzone.com and 99% of non spam comments are accepted within an hour.