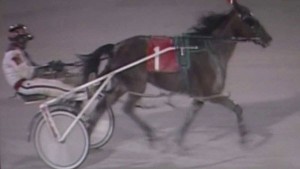 (Indiana, USA) Lake County sheriff's Detective Michelle Dvorscak is seeking information from the public regarding the shooting death Tuesday afternoon of a Lowell racehorse.

Dvorscak said the horse, (pictured here) Lady May Z, a standardbred pacer, was found shot to death by owner James Woodley at 6 p.m. on a 32-acre pasture near 245th Avenue and Colfax Street.

Dvorscak said a white late-model two-door pickup truck was seen in the area of the shooting and may be involved.

Heidi Geib, who leased the horse and worked with Woodley as a team in racing Lady May Z at Balmoral Park and Maywood Park racetracks, said they are devastated, scared and appalled by the 8-year-old mare's shooting death.

Geib said she saw Lady May Z, who had been in about 15 races, earlier in the day. She said Woodley put the mare in the pasture at 3 p.m. while he exercised another horse until 4:30 p.m. Woodley found Lady May Z dead about 6 p.m. The mare had been eating and still had grass in her mouth, Geib said.

"We live on this big farm in the country to be safe and this happened in the middle of the property, so I can't even send my kids out to play," Geib said. "It is very scary. It takes such a cold-hearted person to take the life of such an innocent creature — that is just really sick whoever did it."
Geib said Lady May Z was shot between the eyes, so she believes the killing was "definitely intentional."

"It was no accident," Geib said. "When she died, she was just eating grass. It is devastating for Jim. She has been on the farm since she was born. The whole family here loved her. I just hope we catch whoever did it so I can feel comfortable sending my kids out to play."

Dvorscak said an autopsy on the mare will be performed Thursday at the Purdue University College of Veterinary Medicine to remove the bullet and obtain forensic information to aid the investigation.

Geib said Lady May Z was scheduled to be practiced Wednesday at Balmoral Park in Crete. If she qualified, she would have raced the following week. The mare had rested over the winter from racing due to soreness, Geib said.