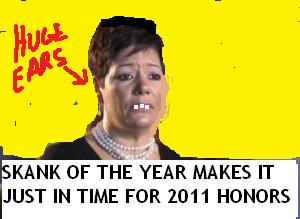 Think about the only possibilities:
1- Ginger White is lying?
2 – Ginger White is looking for money?
3 – Ginger White is getting payed to say this?
4 – Ginger White has ZERO self-respect.
5 – Ginger White is telling the truth and #2 #3 and #4  are true as well?
These are the only possibilities — you don't need to be a genius to figure this out.
In Biblical times she would be called a whore, but in these modern days she is probably called a money-hungry whore by the Herman Cain camp.  I assume, to avoid being called nasty names, somebody told her to wear a simple dress and pearls.  She still looks like a rat to me — what a LOSER!  Does anyone have any self-respect or are the usual scummy TV lawyers so good at seducing people.  I think it's the TV lawyers because they are souless and godless demons/
Some old hag named Ginger White who wants money and fame  — and probably is being led by Gloria Allred (scum/demon/satan/evil/godless/ grub) has come forward to say that she had  an inappropriate relationship with Herman Cain that lasted "for more than a decade."
Can you imagine the skankiness – the hideous scum that this woman must be?  She still considers Cain to be her friend but then she whores out her story — which may or may not be true — to the press just to get her ugly face in the press.
Here is what kids learn from a scum like this one — they learn how to trust no one — ever!   It doesn't even matter if the story is true or not — truth means nothing.  Cain is finished — and sometimes I think that FOX is behind this even though CNN reported it.  I think that FOX realizes that Cain and Gingrich can't beat Obama and they want Romney to win the nomination.
Personally I think that a Cain presidency would be laughable at best, but this Ginger White — wow — what a piece of garbage – she might be the biggest piece of shit of the year.