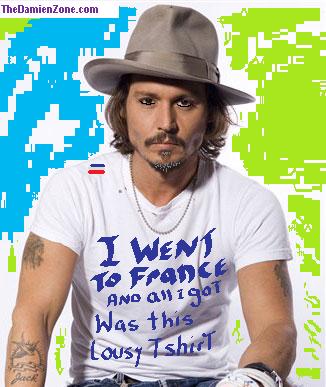 Actor Johnny Depp,  mocked the USA to the European press by saying in 2003: 
"America is dumb, it's like a dumb puppy that has big teeth that can bite and hurt you, aggressive,"
"My daughter is four, my boy is one. I'd like them to see America as a toy, a broken toy. Investigate it a little, check it out, get this feeling and then get out," said the star of the off-beat films "Edward Scissorhands" and "Dead Man."
Now, because the French he loves so much are about to bite into his paycheck, Depp has decided that America isn't so bad after all, and he is returning to the good 'ol USA.  
Depp, plain old Kentucy trash-that-done-good, has moved out of France and returned to America because he was on the verge of becoming a permanent French resident and having to pay income tax there.  Amazing how money changes everything, isn't it?
Johnny Depp and his girlfriend, French singer/actress Vanessa Paradis, moved to France in the 1990s to "live away from the Hollywood spotlight with their two children" according to the nicey-nice slant that is being put on the story. 
The truth is that Depp left the USA  because he is an uneducated, anti-American, posturing dickhead who thinks he is some kind of great artist and deep thinker — he is neither.  He didn't bother to learn that France is a nation where he is mocked behind his back by the penniless and fading-fast European elite who only like his money and fame. Also, in France Depp is in perpetual danger.  Who is the idiot that thinks that any wealthy or famous person is safer in Europe than they are in the USA?
Depp has now moved his family out of France after government officials asked him to become a permanent resident,and that would mean that he'd end up paying tax in both countries.  Yeah yeah yeah — that's the tune he is singing now.  He's a liar. 
In an interview with Britain's The Guardian newspaper Depp said, "Well, I kind of do (live back in America). I'm between wherever I end up on location, and then the States. (I left because) France wanted a piece of me. They wanted me to become a permanent resident. Permanent residency status – which changes everything. They just want… Dough. Money… I'm certainly not ready to give up my American citizenship." <— tranlsates as, "I want to go back to where I am safe and my kids are safe and my money is safe."
Being the moron that he has often shown himself to be, Johnny Eyeliner Depp, who is now pretty much an old man, has changed his tune — but of course he only told the British Press why he left.  He'll tell the US press — a bunch of left wing communists who will play along with his charade —  that he is "glad to be back in the USA and wants his kids to play baseball and learn all about babe Ruth and hot dogs."  Are you following me?? 
Depp is just about 50-years-old.  His balls are starting to sag and so will his career.  He needs the money and he needs the work — and the French were bilking him for millions.  He won't tell you that because he needs to save face just like every other expatriate who comes crawling back.
Depp went on to say he spends more than 183 days a year in France he will have to pay income tax in both Europe and America, adding, "So you essentially work for free."
Anyway, Johnny got a taste of the French life and he doesn't like it enough to become a French citizen.  Of course that is not the actuality of his situation, but certainly the French would give him citizenship in 5 seconds — but for some weird reason he wants to come back to the USA.
Is it for the money?  Yes.  Is it because he got tired of posing as a great European mind?  No.  Is it because he knows he is SAFER in the USA?  Yes — very likely. 
Maybe it's because he is getting older and when he gets up in the middle of the night to pee for the second time he thinks to himself, "What the hell am I doing here in France thinking that I am some kind of royal guest?  I'm just a guy — the son of a waitress from Ownesboro, Kentucky, who wouldn't have a freaking penny were it not for the American public?"  Sadly, no — he doesn't think that deeply. He has people who think about that for him — and then they take a cut.
Johnny Depp — you are a silly, dopey, thankless, ungrateful jerk.  Stay in France — and let the fatted geese bite you and let the smelly French grub every cent you make.  This dumb American puppy doesn't like you and I will pee on your leg. 
In 2003 you comitted the ultimate crime — you mocked the USA to the German media — the GERMAN media of all things.  The most rotten and blood-thirsty people of the 20th century — and don't think they've really changed — got you to mock your homeland and made a fool out of you –and you fell for it hook line and sinker.