Joey Lawrence in Gay Scandal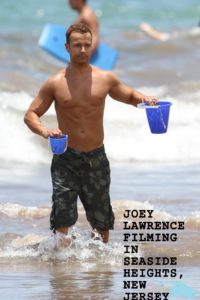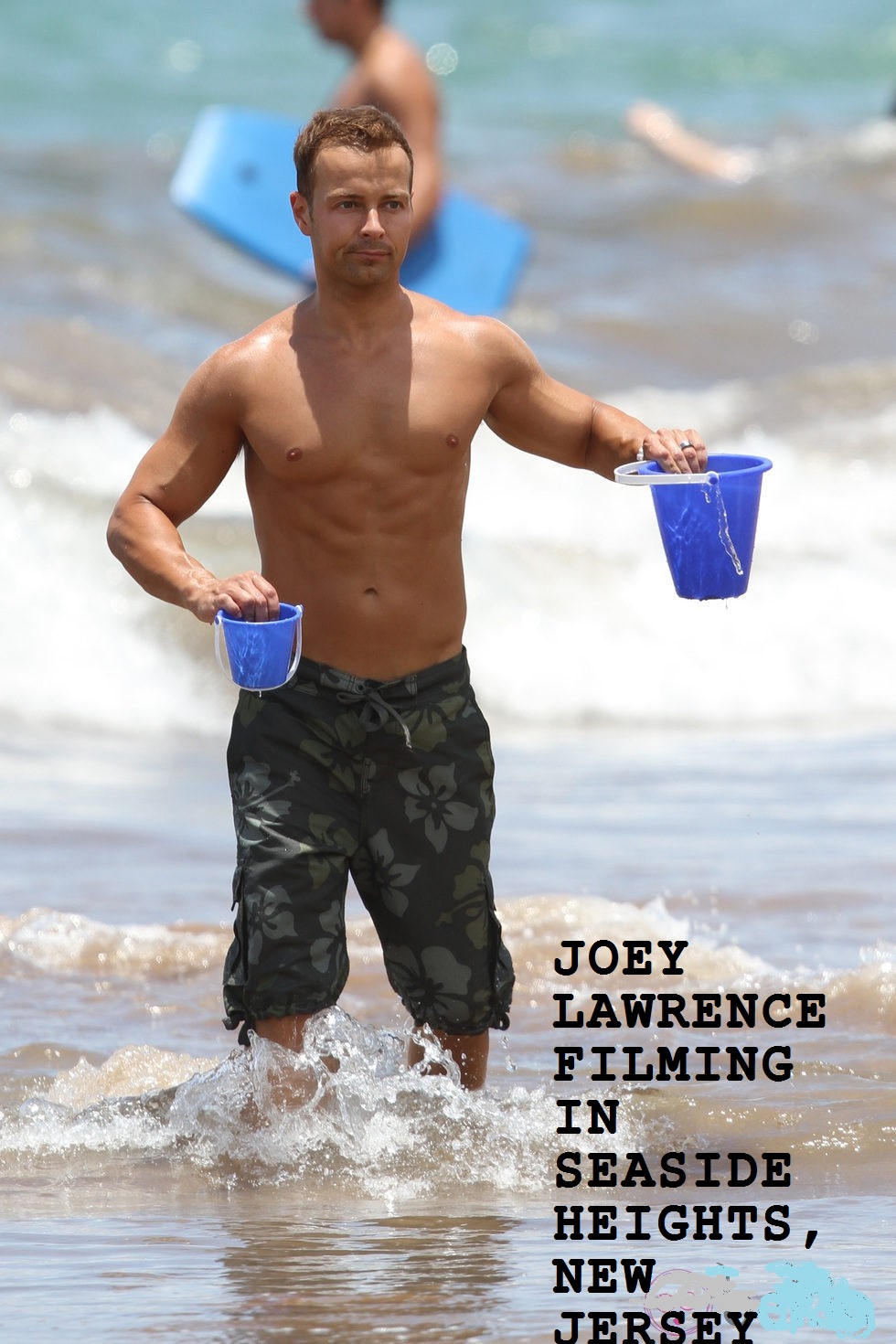 Joey Lawrence in Gay Scandal
[SEASIDE HEIGHTS, NJ, USA]  — First there were the vicious rumors about Joey Lawrence having hair transplants.  Then there were rumors that Joey was going to walk off the set of the top-secret Bigfoot movie he was filming with Italian mega-producer Mildred Sclafani — but he did indeed finish the film and now the project is in post production and scheduled for an Easter weekend release.
Then there were rumors that Joey was going to be on Jersey Shore — that still has time to happen so we don't know.  THERE MIGHT BE NEW INFORMATION ON THIS LINK — DIRECT LINKS JOEY LAWRENCE SCANDAL.
The latest story, however, has Joey Lawrence mixed up in a very strange early morning gay scandal on the beach in New Jersey.
According to sources close to the filming of "Requiem For A Seaside Heights Zombie" — the movie that stars Pia Toscano, Stefano Langone and Joey Lawrence there was a gay scandal involving Joey Lawrence while the movie was being filmed on the boardwalk in Seaside Heights, New Jersey USA.
"There were a bunch of young gay guys who hung around the set of the movie when they filmed at dawn," said producer Mildren Scalfani.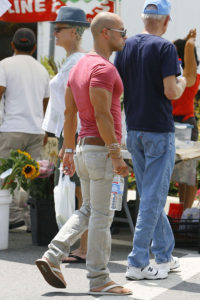 "It seems that a few of the guys had schoolgirl crushes on Joey Lawrence and they tried to sneak onto the set claiming that they were his cousins.  While they were being denied access to the set, another bunch of gay guys smitten with Joey entered the set from the beach disguised as electrical workers from the city who were doing safety inspections.
"Joey was aware that the gay guys were trying to access the set," continued Sclafani "but he was not aware that the electrical safety guys were really crazed gay fans who wanted to get sexy with him as he prepared for a shirtless scene with Stefano Langone."
Sclafani went on to say that the Langone was playfully helping Joey shave off a few stray chest hairs and this drove the fake gay electric inspectors wild.  They tore off their clothes and threw themselves at Joey.  One of the bigger gay guys picked up Langone and threw him into the ocean.  Joey ran down the beach to try to rescue Langone but he was tackled by the nude fake electrical inspectors.
By the time Seaside Heights Police arrived, the ocean current had pulled Langone south into Seaside Park which is out of their jurisdiction so they went for breakfast.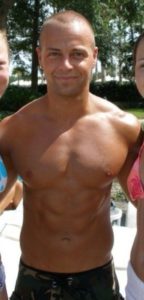 Joey continued on down to Seaside Park fighting off the attack of the gays.  Finally he dove unselfishly into the choppy Seaside Park ocean waters and pulled Langone out of the churning surf.  For a moment the two shirtless actors rolled about in what seemed to be a little bit of an over-dramatic rescue and an obvious excuse to touch and tackle each other.
After that, Joey grabbed a lifeguard's safety line and tied up all four of the gay fake electrical inspectors.
The scandal arose when photos emerged of a nearly nude Joey Lawrence tying up a bunch of naked sweaty men.  One of the gays who pretended to be a cousin, ran with the group and snapped a lot of pictures, and before he was nabbed by Seaside Park Police, some of those pictures ended up in the hands of a local newspaper who agreed to not publish them in exchange for some bit parts in the movie.
Seaside Park Police  arrested all of the gay guys and for a few moments they even arrested Joey.
"It was a mistake but we assumed that by the look of him — the muscles and the shaved chest and plucked eyebrows — that Joey was one of the gay stalkers," said Seaside Park Commissar, Griegery VanAnheltten, 46, of nearby Ortley Beach and a 26-year veteran of the force.
"And the way Mr. Lawrence rolled around on the beach with Stefano like he was Burt Lancaster and Stefano was Deborah Kerr in 'From Here To Eternity' and, well, I let's just say that I know my Deborah Kerr movies and the whole thing looked very gay to me.
Trooper VanAnheltten continued to describe the whole incident in more intimate detail.
"Also, Mr. Lawrence looked really gay around the eyebrows and it was a mistake any straight cop like me could have made.  By the time I rounded all of those guys up, Mr. Lawrence was already in the backseat of my prowler with the gay stalkers.
"I don't know what happened in there but I got Mr. Lawrence out of there as soon as Mrs. Sclafani insisted that it was Joey Lawrence cramped up inside my prowler and not some hunky muscle-pumped, eyebrow-tweezing, speedo-bulging, chest-shaving, hot and slippery go-go boy.  I think I might have just over-described Joey, so can that be off the record?"
"I am sure Mr. Lawrence  was unharmed, but it was pretty tight in there for those five minutes. It is quite possible that somebody in my police cruiser may have gotten off. It might even have been me.  That's why they call it a cruiser.  We won't know, however until the DNA test on my upholstery is analyzed for semen by internal affairs."
Langone, a little out of breath and water-logged, was treated for minor abrasions he received when his face brushed against the sand and then repeatedly on the  stubble of Joey's shaved chest hair as they rolled around a little too long in the pounding surf.
Doctors said Langone was okay, and with a little makeup, the scene was eventually shot about an hour after the disruption.
Pia Toscano, who plays the part of a vibrating Guidette singer who kills zombies and makes gravy and meatballs for Sunday pasta for the zombie survivors, was not on the set at the time and she missed the whole thing.
Pia Toscano was at "Killin Time" rehearsal studios on Route 36 in Keansburg, New Jersey USA, where she was working on her inner vibrato — the horrifying vibrating sound her voice makes that destroys zombies….and a lot of innocent people.  Food scientists in West Caldwell and East Hanover, NJ., think that Pia's vocal vibrations are what gives her Sunday gravy with sausages and meatballs and bracciolle, its unique flavor,
Seaside Park Investigators arrested 4 gays and charged them with criminal impersonation, tresspassing, and creating a public menace with intent to do harm to an individual.
Arrested were:  Vale Brigbeltter, 22, of Asbury Park,  Paul Cattenpatch, 48, of Tinton Falls,  Darren Cusp-Spuch 31, of Brigantine, and Campari Jidrool, 26, of Aukland, New Zealand.
All four were held in the Ocean County Lockup until they posted bail.  Jidrool jumped bail and is presumed to be back in New Zealand.
"Joey was a little shook up by all this," said producer Mildred Sclafani, "But in the end this fiasco helped him with the scene he was about to play with Langone.
"Without giving away too much about this movie, the scene we were shooting was one where the Seaside Heights zombies have killed all the women of Seaside Heights and the remaining Guiodos have to resort to gay love. Joey and Stefano's characters toy with the idea of having a heavy bromance, but in the end they decide to try to make it to Point Pleasant – a nearby chick-filled beach that the zombies fear because it is controlled by the mob who run really cheap TV commercials for Jenkinson's."
Just another day in the life of Joey Lawrence — superstar!