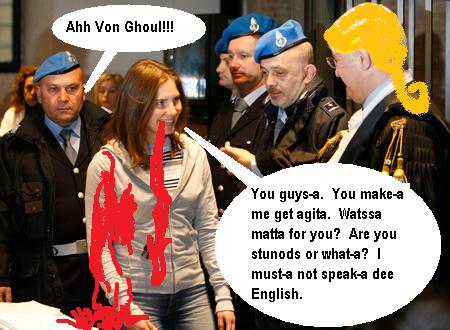 I think that Amanda Knox got away with murder and my reasoning goes far above the simple fact that an Italian court found her guilty and there was evidence that put her at the scene of the crime.   No — I take it a step further.
Her guilt became apparent to me as soon when she spoke to reporters only moments after arriving back in the USA.  Her very first words gave away the fact that in my opinion she is a lying MURDERESS.
Amanda stepped up to the microphone and before she uttered a word, she said about the people standing behind her, "They're reminding me to speak in English."
That pretentious statement — that silly remark — that sickening display of hubris, told me that Amanda Knox is an evil little killer.    Despite all that happened to her, that little monster had the nerve to address the USA by saying that English was a strange language to her.   Instead of being humble and contrite, she opted to  sound like she almost made the mistake of being too cool and Euro for the room.  Only a true sociopath would do something like that.  Call me crazy — but now I know she murdered that girl. 
I am not stupid and I nobody ever fools me.  She did not just step out of an Italian prison and get pushed in front of a microphone.  She had been out of jail for over a day and she had all the time a  flight from Italy to Seattle would allow her to talk to all of her family and friends who flew with her.  Certainly her family didn't speak to her for 11 hours in Italian, did they? 
No, they did not.  The fact that she said what she said says a lot about her true character.  She doesn't have her priorities in order. 
Everybody seems to have forgotten what the whole thing was like when it first happened.  I think the Italians are weird.  They just let her off because they got bored with her — she's a killer.  (in my opinion of course) — well she was convicted — so she really WAS a killer — now they say she is NOT a killer — but remember — whenever you step up to a microphone — remember to not speak Italian.