"I am not one to judge an animal, but her time in New york has turned poor Willow into a nasty street-fighting lesbian and a left wing Deomcrat acitivist.  I hope her family wants her back.  Her same sex lover is a dope addict that she met in an alley and the lesbian cat gay couple are expecting kittens any day.  It's actually a bittersweet kind of serendipity — and a mess." [Sheldon Hartunis DVM and Cat Finding Expert]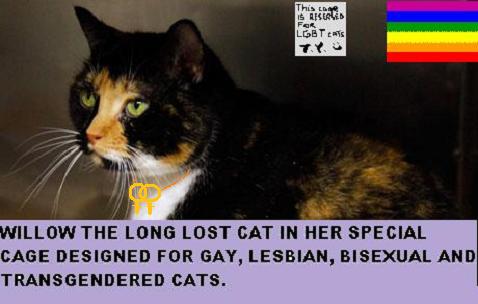 A furry feline named Willow, who was last seen five years ago in Colorado, was found this week roaming the streets of New York.   The new Willow is quite different from the old Willow and her time in New York City has really changed her.
Country kitty turned metropolitan cat, Willow was discovered by a pedestrian on East 20th Street in Manhattan over the weekend and brought to Animal Care and Control of NYC.
"Willow tested positive for a microchip, and her Colorado owners, Chris and Jamie Esquire, were later contacted," said world famous animal finder Dr. Sheldon Hartunis.  "They didn't like what they heard despite the fact that they are granola eaters who run their home on corn oil and cow feces."
Dr. Hartunis, had a look at Willow and had some praise for the good luck of finding her,  but he also had some misgivings about the cat's life situation in general.
"Willow is in good health, kind of chunky," Hartunis said. "Clearly she has been taken care of or enjoying the New York City food."
Hartunis' tone changed when he revealed the rest of the story.
"It's great that Willow was found, but her years in New York have turned her into an activist lesbian and a far left wing liberal.  She has an arrest recoprd for throwing a pie at Anne Coulter's cat.
"She used to be just a normal kitty cat, but when vets looked at her belly she had all kinds of piercings and tattoos.  Vets, myself included, also found evidence of a botched sex change operation that left Willow with a damaged uterus."
According to Hartunis, Willow now has a life partner named Tabitha who is pregnant with kittens.  She was artificially inseminated at Planned Cat Parenthood.   Owners do not need to be contacted if a cat wants to have kittens or wants to end a pregnancy by having the little kitties sucked out with a machine that looks like a big Water-Pik.
"Currently, Willow is balking about going back to Colorado — at least until she marries Tabitha and when Colorado also allows gay marriage.  She is kind of making a political statement and she also is in talks with Reality TV — it's going to take a few months to sort this out." 
How Willow traveled from Broomfield, Colorado, a suburb of Denver, to New York — a distance of more than 1,600 miles — over a span of five years is a mystery, but Willow told TheDamienZone.com how she ended up where she ended up.
"I was holed up in Colorado and living a quiet life, but deep down inside I was a Tom Cat in a female cat's body.  I lived in a state where they do the most sex changes (she was referring to Trinidad, Colorado) but the doctor's there refused to do surgery on a cat.  My teats and external genitals made me sick.  I was the only female cat who used to try to spray on the fence — all the other cats laughed at me.  I knew that if I made it to New York, I would meet other cats like me but I ran into a a veterinarian who said he could do my sex change, but he turned out to be a fraud.  I lost everything."
"Someone maybe picked her up in Colorado and brought her here but she has admitted that she wanted to get out of Colorado and meet more militant lesbians like herself.  She may hace hooked up with a lesbian trucker," Dr. Hartunis  said. "Some people are joking that she is a city girl and wanted to see the sights, but this is far from the truth."
Calls to the Esquires were not immediately returned and that's because they do not want the lesbian/semi-transsexual cat back.  They are mortified at what she has become but they did send a little present — a gay flag that Willow proudly displays in her cage.
As for Willow, plans are being made for her to reunite with the Esquires, Hartunis said.
"For now, she will stay with a foster family until health certificates are filed and she can make the journey back home, though perhaps not as memorable as her travels to the Big Apple.  She plans on holding off her return because she wants to be sure that she is married to Tabitha and the kittens all turn out okay.  She also wants to talk to Colorado lawmakers about their same sex policies."
Strangely — a very similar thing happened a little more than a year ago and TheDamienZone.com reported about it.   Read about it here — http://thedamienzone.com/2010/08/19/abducted-cat-shows-up-a-year-later-3000-miles-away-and-addicted-to-drugs/