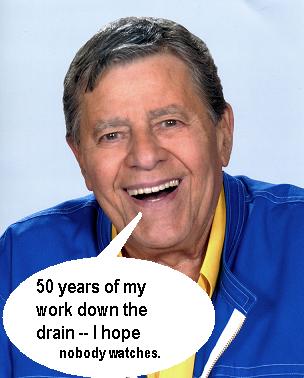 There is nothing more cheap and disgusting than the new guard of young execs at the Muscular Dystrophy Association.  These guys make nice salaries but they're making a huge mistake by trying to literally change the face of a disease, which for all intents and purposes did not exist in the public consciousness until Jerry Lewis brought it into American living rooms.  
The new guys don't like Jerry and they don't like the brand he has stamped on his pet charity.   The way to make these morons to see the error of their ways is to not donate.   But isn't that like taking it out on the kids?  Sure it is — but why aren't their parents stepping up? 
The reason for Jerry's dismissal is that the new generations of MD afflicted kids and their parents and the execs at MDA are all too young to know and appreciate what Jerry Lewis has done over 50 years.  
Last week at TCA, Jerry Lewis, being the kind of gentleman that he sometimes can be,  denied he was severing his association with the Muscular Dystrophy Assn. telethon he presides over every Labor Day weekend.
On Wednesday night, MDA execs — a bunch of ingrates who were not even born when Jerry was creating their charity for a disease nobody even heard of —  confirmed those rumors — the organization said that it was relieving the performer of his duties as national chairman and that Lewis won't be appearing on this year's telecast.
Here is a perfect example of the whoring political correctness of the USA.  It doesn't matter that Jerry Lewis worked his ass off for over fifty years to try to make life better for people struggling with neuromuscular diseases — what matters is that he used the word "faggot" a few years ago and now the high paid MDA executive PUNKS want to get the old man out of the way — what a bunch of frigging ingrates! 
In a short statement announcing the telethon news, R. Rodney Howell, (scum bag) MDA chairman of the board, said that Lewis is a "world-class humanitarian and we're forever grateful to him for his more than half century of generous service to MDA." It said it would not replace him for the post of national chairman. < —-R. Rodney Howell is full of shit.  He probably thinks that Jerry Lewis is an old crackpot and the new streamlined kids with streamlined wheelchairs and streamlined walkers, don't fit in with the Jerry Lewis image.   This is so disgusting and loathsome that I am almost tempted to not even blog about it.   One thing is for sure — they ain't getting a penny from me EVER again.
The 85-year old Lewis has hosted the telethon since it began in 1966, turning a generic fund-raising event into a fixture of the entertainment calendar and raising more than $2 billion for the disease.  But that all thrown in the trash can because he said a word that means nothing.  Gay groups are offended?  What about the gay teenager in the wheelchair or the gay couple who can only adopt a kid with MD because nobody wants a defective kid — oops — I said defective kid — fire me too.
Jerry's  involvement hasn't been without controversy in recent years. In 2007, Lewis nearly let slip a homophobic epithet. In the last few months the question of his relationship with the telethon has grown more complicated. In May, news surfaced that Lewis would host his last telethon in 2011. Lewis denied the report. At TCA, he reportedly told journalists that "it's none of your business" when they asked about his future association with the event.
MDA is expected to name a new host, who will join a quartet of co-hosts that includes entertainment personalities Nigel Lythgoe, Jann Carl, Alison Sweeney and Nancy O'Dell.  These are all people nobody ever heard of and the take will be next to nothing.  Of course MDA will lie and pump up the numbers to try to scum Jerry, but nobody will watch this telethon — nobody — the disease is back to being a disease that nobody cares about.
Lewis can still be seen on television in the coming months: He'll appear in the new documentary "Method to the Madness of Jerry Lewis," which takes a look at his long career via rare footage and the testimonials of comedians such as Eddie Murphy and Alec Baldwin. The special airs on Encore this fall.