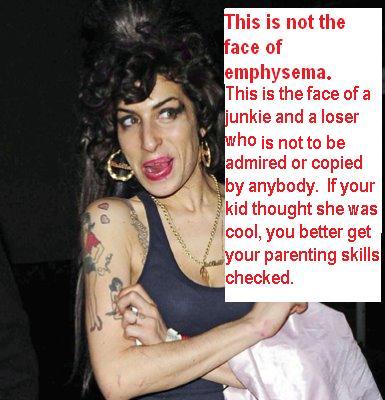 Amy Winehouse died because she was a dope addict and it's an insult to people throughout the world who truly suffer from emphysema to try to say that the pulmonary disease killed that mess.
There are millions of people who suffer from emphysema who didn't shoot heroin and crack but their lives are miserable.   Blaming her death on emphysema is a Twinkie defense — she died because she was a drug addict who thought it was cool to be a drug addict.  She wanted to be a tragic rock star like Jim Morrison and Janis Joplin — except they had talent.
Amy Winehouse is not to admired or copied or revered — she was an asshole and a loser.  So she could sing — so can a billion people.
All the bigshots will go to her funeral and memorials — not to pay tribute, but to get publicity for themselves.     What a mess — just the way Amy would have liked it.