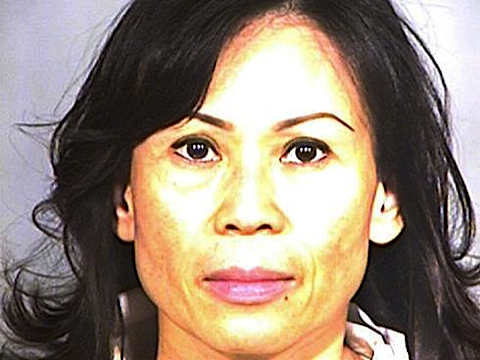 Covering her face with her long dark hair to avoid television cameras, a Southern California woman accused of cutting off her husband's penis and throwing it into a garbage disposal appeared in an Orange County courtroom Wednesday.
In her first court appearance, Catherine Kieu Becker mumbled her response to the judge when asked if she understood she was due back in court for arraignment on July 22.
An initial police investigation alleges that Becker put a drug or poison in her husband's dinner Monday evening to make him sleepy.
"The victim went to lie down and he woke up tied to the bed with his wife tugging his clothes off," police said. "The suspect grabbed the victim's penis and cut it off."
Becker, 48, is charged with felony counts of torture and aggravated mayhem in the attack.
"The charges we have filed are some the most serious charges we could file short of someone being dead," said Susan Kang Schroeder with the Orange County District Attorney's Office.
Becker also could face additional charges.
"We're looking at toxicology reports," Schroeder told CNN affiliate KTLA. "They have not come in yet and we don't have the evidence at this point to charge her with the poisoning."
Becker is being held in the Orange County Jail.
Becker told police he "deserved it" when they arrived at the scene after she called 911, the police report said. The couple is going through a divorce.
Her husband underwent emergency surgery at the UCI Medical Center, police said.