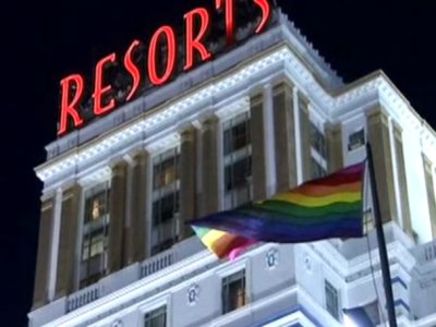 NOTE TO CURIOUS HETEROSEXUALS:  Move along, there is nothing to see at this new gay bar.  It's not for you.  Don't wander in and think you're cool because you went to a gay bar.  Ladies, if your husband or boyfriend insists on going, it's time to find a new man — catch on? 
At the RESORTS CASINO AND HOTEL, the somewhat faded Boardwalk grande dame that became this city's first casino in 1978 after New Jersey legalized the business, you can find slots and blackjack, concert posters featuring performers like Paul Anka and Wayne Newton, the de rigueur all-you-can-eat buffet and the other familiar diversions of Casinoland.
But there is also a rainbow flag flying above the entryway. There is Prohibition, a new nightclub that is believed to be the first full-time gay bar at any big American casino. Across the hall is a female impersonators' show. On the hotel's Web site, a menu tab reads "LGBT."
Casinos have always promised a walk on the wild side, and Atlantic City's raffish history includes rich, largely forgotten, gay chapters. So the most surprising thing about Resorts' new turn may be that it didn't happen sooner.
Still, the opening of Prohibition in May was a sign that just as the city has courted various markets over the years — Asians, families and others — it is now reaching out to gay customers as a way to cope with too much competition and too few gamblers.
"I feel like I'm doing something that needs to be done, but it's perfect because the right thing to do is the lucrative thing to do, too," said Dennis C. Gomes, who in December became co-owner and chief executive of the faltering casino, which he says lost $20 million last year.
So far the new club has been a big hit, drawing local customers and visitors from New York, Philadelphia and Washington.
"As a gay person, the places you could go to were almost creepy, not chic at all," said Francois Dagenais of Montreal, a singer and dancer who has appeared in Atlantic City shows for 10 years.
"We're looking for the same thing as everyone else. We have money to spend and want to have fun. I don't know why this didn't happen before."
Inside the crowded bar, capacity 400, one recent night were four giant plastic palms, red banquettes, male servers in wife-beater undershirts and black suspenders, throbbing dance music and Roaring-Twenties-meets-South-Beach décor.
People wandered in: the two New Jersey men who are no longer dating but decided to sample the club together; the gay visitors from Phoenix up for a family wedding; the man playing the drag show's long-limbed Cher.
By contemporary standards it all seemed fairly tame. But one server, Joey Diorio, said he had taken the job less for the money than for the chance to be part of something long overdue.
He described the casino almost as New Yorkers described the legalization of gay marriage last month.
"I've had people talk about the rainbow flag here, and they'll break into tears," Mr. Diorio said. "It's all been a long time coming."
The push for gay customers is largely the idea of Mr. Gomes, a former casino investigator who has a reputation for turning around sagging gambling properties, and whose efforts to take on the mob in Las Vegas were immortalized in the Martin Scorsese film "Casino."
He consulted with John J. Schultz, a former city councilman who once owned nine gay bars in Atlantic City. Then he hired Joel Ballesteros, who was active in the local gay community, as "director of LGBT marketing."
The idea, part of the hotel's '20s-themed makeover, was not just that members of the gay community were a ripe market, but that they were something of a pop culture signifier whose support would also pull in a younger, hipper audience than Resorts had been attracting.
The casino industry has not been oblivious to gay customers. Mindful of figures showing that gay and lesbian travelers spend $64.5 billion annually in the United States, Las Vegas hotels for years have had weekly gay-oriented pool parties and club nights, and advertising directly addressed to gay travelers. A popular club, Krave, has become a magnet for gay visitors but is not inside a casino.
Atlantic City casinos, including Harrah's, Caesars, Bally's and the Showboat Casino Hotel, have held "Out in Atlantic City" weekends in recent years, and the Trump Taj Mahal has hosted "gay bingo" nights.
Mr. Schultz and his partner, Gary Hill, each year present a drag queen Miss'd America pageant, evoking the long-gone original. Still, most of the wooing by Atlantic City casinos has been sporadic and sotto voce, perhaps out of fear of turning off customers who are not gay.
In many casino markets, that may still be an issue. But some experts say that Atlantic City has particular potential for gay patrons because of its beach scene, period architecture, louche history, access to urban communities from New York to Washington and even the campy resonance of the Miss America Pageant.
"My guess is you can take the Atlantic City brand and help modernize it," said Howard Buford, president of Prime Access, a marketing firm specializing in Hispanic, African-American and gay consumers. "It's a place that's ripe for rediscovery."
Atlantic City has a long gay history. As early as the 1920s, Louisa Mack was running the city's first gay-tolerant bar off the Boardwalk. Soon, New York Avenue became an excitable strip of smoky bars, with prostitutes frequenting some and gay couples and cross-dressers in others.
A crackdown in the 1960s led to a landmark case in which Val's, a New York Avenue bar, fought off state efforts to close it on the ground that it was frequented by homosexuals. The 1967 ruling in its favor by the New Jersey Supreme Court made the bar an early, pre-Stonewall symbol of gay resistance.
By the 1970s, though traditional tourism was in steep decline here, Atlantic City's gay scene boomed at the gay beach in front of the Claridge Hotel and popular gay gathering spots like the Entertainer's Club, the Lark, and Grand Central Resort.
But as the economic might of the new casinos sucked life from the rest of the city, the New York Avenue scene dried up, the land more valuable for parking than for clubs.
"For a while, the Atlantic City market was 35 percent gays, 35 percent Canadians and the rest was New York," Mr. Schultz said. "The market was here. There's no reason it can't come back."
At Resorts, Mr. Gomes and Mr. Ballesteros, his marketing executive, discussed whether a gay presence would turn off a general audience. They agreed that in Atlantic City at least, that train had left the station.
Instead, a bigger problem might be the opposite. At the drag show one recent night, the delighted audience was mostly heterosexual couples, average age hovering around 55.
"It's been great so far," Mr. Diorio, the server, said. "But we did have one customer who came in, took a look around and said, 'There went our gay bar.' "