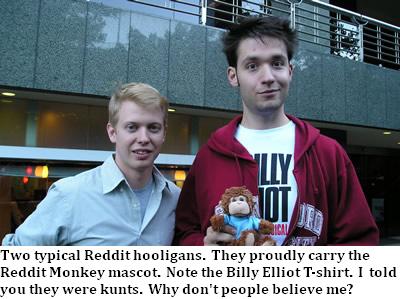 There's this website called Reddit.com.  I'm not exactly sure but I think it's a place where failing college kids from fukked up homes  kind of hang out and decide what is read-worthy on  the net.   
My experience with Reddit has been limited other than to say that a few of the links on TheDamienZone.com have been posted to that site.  The feedback I got from the submitters was appalling.   The whole website seems to have been taken over by marauding little coksukkers who gang up on outsiders who they deem unworthy to participate in whatever Knights Templar circle jerk thing it is that they do over there.  My impression is that what they do best is bully peple who are not in with their " in" crowd –and who the fuck would want to be?
The rudeness of many of the Reddit front guard — they mustlove that I call them that  — seems for the most part to be cliquish, childishly insecure and dopey-girlie-pretentious.   It's like they're all the pretty girls in the 7th grade class and you're the hapless nerd who happened into their secret world. 
Woe to the poor slob who submits a link to Reddit and it does not meet with the left-wing, don't know they're fat and ugly teenagers and the mom's-basement thirty-something misfits who patrol the Reddit website for incoming reconnaissance.  They tear you to pieces and insult you and harass you because it seems that the real purpose of Reddit is for the unschooled and ill-bred to fool themselves into believing they are neither of those things. 
It's hard to explain but they're the kind of assholes who like to think they find irony in things and then mock something by pointing out the irony.   Finding irony –or their version or irony — makes them feel emboldened.   Nobody has been hammered more than two of my fans. 
Anything from TheDamienZone is appallingly beneath Reddit's  Chelsea Boy Liberal standards of journalistic integrity despite the fact that Reddit submissions  like, "I Think My Penis Is Shrinking From Drinking Smart Water" and "My Sister Thinks My Grilfriend is Hot" get lauded by the Reddit hooligans — it's really that fukked up over there.
Hey, I don't give a shit what anybody thinks of me.  If the little dicks over at Reddit don't like me, they can go fuck themselves.  After reading some of the comments and insults they hurled at my readers, I consider it a badge of honor to not be liked by the pretentious and possibly queenish thugs over at Reddit — they can suck my ass for all I care.
The sad part is that there are probably a lot of nice people who belong to Reddit and they honestly look for interesting things to read — but they never get to see anything I write because the rugrats who guard the coastline over there are nasty little kunts.  
They will like that I call them vulgar names because their genius minds will find the irony — I told you they love irony — all ultra geeks in search of purpose or a sexual orientation do.   I hope that gives them some measure of satisfaction. 
Most of the kids over at the Reddit kiddy-land are stupid and only stupid people would be stupid enough to fall for their game.  Is Reddit even aware that the site is being ruined by these fuktards?   Oh, wait a sec, maybe Virgina Cunningham was right when she told Nurse Summerville that the sick people will rule the roost when there are more sick people than well ones.  
I wonder if the fuktards will get that esoteric reference?  Sure they will — one of the fuktards is already looking it up and will post it as though he knew it all along.  Now THAT'S the brand of hardcore fuktards I'm talking about.
Go ahead and comment and say whatever you want.  I never censor comments, but be prepared for what I say to you.